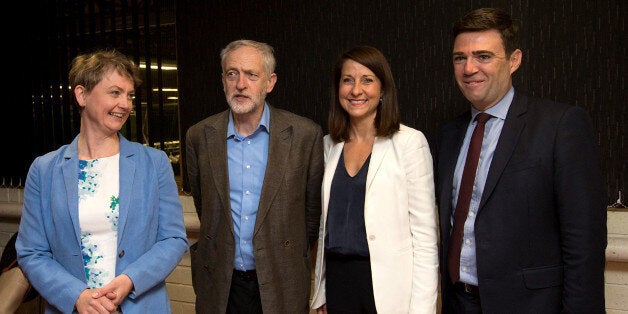 Yvette Cooper has criticised Jeremy Corbyn for associating with people who push "homophobic" and "anti-semitic" abuse.
Corbyn, the frontrunner in the Labour leadership contest, has faced questions over holding meetings in parliament and in public with representatives from groups including Islamist militant organisations Hamas and Hezbollah.
Speaking during a BBC Radio 5 Live leadership hustings this morning, Cooper said Corbyn was in danger of appearing to endorse extremist views - although she did not name specific groups.
However Corbyn said the meetings were held as part of seeking peace in the Middle East and it was necessary to "talk to people you don't like".
Cooper, who is fighting Andy Burnham to become the main challenger to Corbyn, said: "There are some people who have quite extreme views. Homophobic, pushing homophobic abuse and pushing extremist abuse who I don't think you should give legitimacy to by inviting to public meetings.
"This is the Labour Party, we have always been very clear about our values and what it is we stand up for and therefore it's important the leader of the Labour Party is projecting the right values and support as well."
Defending himself, Corbyn said meeting with groups was not the same as agreeing with them. "I have met people in the context of discussions about the Middle East with whom I profoundly disagree. I have met representatives of the Iranian government with whom I profoundly disagree with on human rights issues," he said.
Corbyn said the only way to bring about a long term peace process in the region was to recognise that groups like Hamas have a "great deal of support" and noted "even Tony Blair" was talking to them.
"If you're going to bring about real change you've got to talk to people you don't like, don't agree with, don't particularly want to be in power, but you have to recognise they have a degree of support. What's the alternative, continuing the war?"
Cooper said it was "absolutely right" to talk to people with whom you disagree, but said there was a difference between doing that and "encouraging people to come to public meetings and speak to the public and appearing to endorse them or describe them as friends as you do so".
"I just think there is a responsibility on somebody to be leader of Labour Party to send out, what signal you send out about Labour values more widely, that is separate to what peace negotiations you might be part of.
"We should always make clear and screaming it out in lights we are against anyone who wants to pursue homophobic abuse or anti-semitic abuse.
She told Corbybn: "I know you don't agree with those values [but] it's important all of us should send out those signals."
Popular in the Community