Archaeologists have launched a hi-tech initiative to combat the destruction of ancient sites in the Middle East by the so-called Islamic State (also known as Isis, Isil or Daesh).
Scientists at Oxford and Harvard universities said they plan to "flood" the region with 3D cameras in order to catalogue buildings and artefacts of historical significance, preserving knowledge of them should they be obliterated.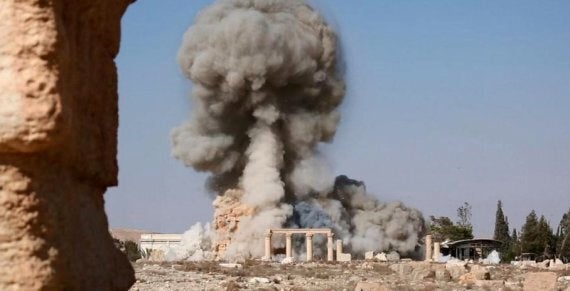 Islamic State has destroyed parts of ancient Palmyra
IS, also known as Isis, are destroying ancient relics claiming they promote idolatry, though the extremists are also believed to have sold off looted artefacts.
The Million Image Database Project, a collaboration between the Oxford-based Institute for Digital Archaeology (IDA) and Unesco, will distribute 5,000 cameras to war zones by the end of this year, capturing one million images by the end of 2016.
Roger Michel, director of the IDA, told the Times: "Palmyra is rapidly becoming the symbol of Isis's cultural iconoclasm.
"If Isis is permitted to wipe the slate clean and rewrite the history of a region that defined global aesthetic and political sensibilities, we will collectively suffer a costly and irreversible defeat.
"But there is hope. By placing the record of our past in the digital realm, it will lie for ever beyond the reach of vandals and terrorists."
The 3D cameras have been modified so "inexperienced users", such as museum workers, military personnel and charity volunteers, can upload images directly to a database at New York University.
In the event they are destroyed, the scientists hope the images will be detailed enough to be able to recreate them using 3D printers.
A description of the project on the IDA website said: "We hope to capture one million 3D images of at-risk objects by the end of 2016. To that end, we have created a heavily modified version of an inexpensive consumer 3D camera that will permit inexperienced users to capture archival-quality scans.
"This project is the first of its kind in both purpose and scale. However, it is our hope that it will become a model for future similar endeavours. All of the associated technology and software will be open-source to facilitate that goal."