A coffee cup left behind at an event by Labour Party leadership contender Jeremy Corbyn has been sold by a charity worker on eBay for more than £50.
One of those who chipped in told Sun Nation he'll use the cup to "drink port out of whilst toasting the Queen".
The cup was found by Maria Cooke who had been at Corbyn's rally at the Nottingham Playhouse when he passed her table and asked if he could rest his takeaway coffee next to her.
She obliged, and when he left the building, she pocketed the cup and listed it on eBay.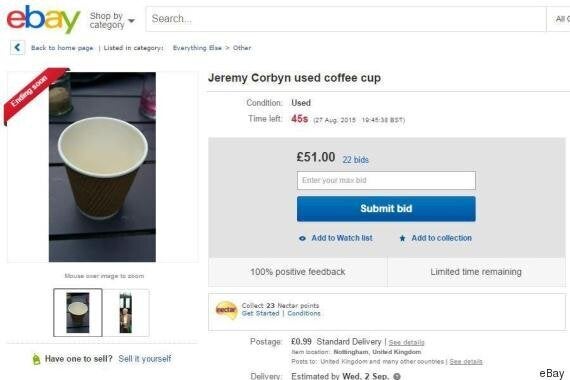 The cup sold for £51 on Thursday
Mrs Cooke, who works for Age UK Notts, put the listing up but for days bids stalled at around £5.50. She pledged to get the cup signed by Corbyn should it sell for more than £50 - a move which appears to have encouraged a group of students from Oxford University.
The winning bid of £51, plus postage and packing, was placed by the collective.
One of the group, law graduate David Browne, 21, said: "It was just a crazy idea that one of us came up with.
"We wanted to get it over the £50 threshold to get it signed, it was just a bit of fun really.
"In politics we stand from people who actually like Jeremy Corbyn right up to Conservative voters."
Mrs Cooke told the London Evening Standard: "I thought we'd be very lucky to raise a fiver. The money will help local older people, and our local charity has had some coverage.
"It shows how useful it can be for charities if you use social media to do something strange, but quite amusing.
"It also shows how interested I think people are in Jeremy Corbyn."
Cooke has now contacted Corbyn's office to see if he can sign the cup so she can honour her listing in full.
Age UK Notts aims to enhance the quality of life and promote the health and wellbeing of all older people in Nottingham and Nottinghamshire.
Popular in the Community