Rob Lowe has finally revealed the secret behind his age-defying appearance.
The 'Parks and Recreation' star somehow manages to look the same now, aged 51, as he did when he first broke through on screen, as one of the most appealing stars of the 1980s Brat Pack, in films such as 'St Elmo's Fire', 'The Outsiders' and 'About Last Night...'
Well, now Rob has given us tips that we can all follow. See what he has to say in the video above...
He's a clean-living family man these days, but Rob has had his share of fast living. As one of the world's biggest film stars in the 1980s, ladies on his arm included 'Little House on the Prairie' star Melissa Gilbert, Princess Stephanie of Monaco and film star Nastassja Kinski. He became one of the first celebrity sex tapers when some of his antics came to light as he was campaigning at the 1988 Democratic Convention. He has been married to wife Sheryl since 1991.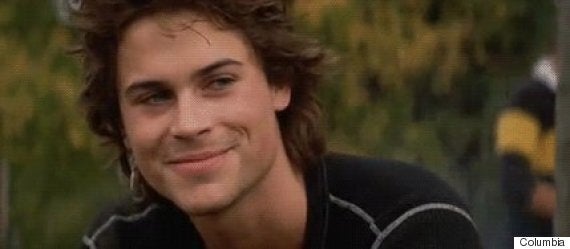 Rob Lowe really hasn't changed much in 30 years. Here he is in 'St Elmo's Fire'
He's remained busy on screen, too, after finding a whole new fanbase as Sam Seaborn in 'The West Wing'. Later, he starred in 'Brothers and Sisters' and became a regular on 'Parks and Recreation' before making his current show 'The Grinder'. He also stole the show in 'Behind the Candelabra' with his extraordinary performance as Liberace's plastic surgeon Dr. Jack Startz.
In new show 'The Grinder', Rob plays a TV actor who returns to his hometown after his long-running television series, 'The Grinder' (on which he played a lawyer), is suddenly cancelled. Back in smalltownsville, his family are actual lawyers who run an actual law firm, so having believed that his television experience would make him qualified to be a lawyer, he decides to join their firm despite having only played one on the small screen.
What adds another layer to this already tongue-in-cheek premise is that Rob's biggest role on-screen is, of course, 'The West Wing', where his character Sam Seaborn was, of course, a lawyer turned White House aide. It's like an onion.