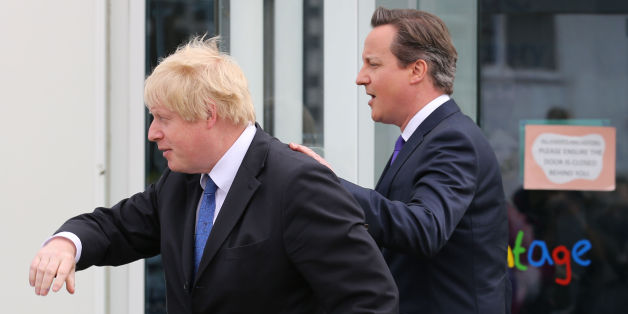 Chris Radburn/PA Wire
A new book chronicling 10 Downing Street under David Cameron's leadership alleges that the PM sent an explicit text message to Boris Johnson, after the latter drew attention to old Etonian prime ministers.
In the Mail on Sunday, Sir Anthony Seldon, the book's co-author, publishes an extract in which a No 10 insider details the circumstances of the rude message, said to have been sent during the recent election campaign.
The source said: "There was a sense in this building that the PM and Chancellor were getting on taking the difficult decisions while Boris, with his crass bumbling, was lapping it all up and loving twisting the knife."

After Johnson lists in print all the Old Etonians who have gone on to become prime minister, Cameron sends him a text: 'The next PM will be Miliband if you don't f****** shut up.'
And there are further details of the mood around Cameron on election day, May 7th.
The extract says that key aides to the prime minister had "tears in their eyes" when Cameron read out one of three prepared speeches ahead of the final election result.
And it is said that a "speech zero", to be used in the then unlikely event of a Conservative majority, was not written until later that day.
'Cameron At 10: the explosive inside story' is written by Anthony Seldon and Peter Snowdon.
But this is not the first time Cameron's SMS etiquette has raised eyebrows.
During the Leveson Inquiry into phone hacking, Cameron sent texts to News International executive Rebekah Brooks signed off with "LOL", which the prime minister took to mean lots of love.