Tourists have complained after the Auschwitz-Birkenau State Museum in Poland installed mist showers at its gates.
Visitors to the former Nazi concentration camp protested that the structures - meant to keep queuing tourists cool - inspired memories of the gas chambers outfitted like showers which were used to murder prisoners during World War II.
The showers were erected as Poland experiences a sweltering heatwave, but their inclusion at a site where over a million people were killed has prompted an outcry.
Outdoor 'Showers' at Auschwitz Reportedly Irk Israeli Tourists http://t.co/iLpwhf8eY7pic.twitter.com/lgTML7eyJg

— Haaretz.com (@haaretzcom) August 31, 2015
In comments reported by the Times of Israel, visitor Meir Bolka said: "Youth groups that were there didn't really notice and treated it like fun, but for me it was déjà vu of the selection and extermination in the showers."
Bolka said he complained to management who explained the showers had been installed to combat the heat, which has seen the mercury rise to 37C.
Showers installed outside Auschwitz remind visitors of gas chambers http://t.co/tfszYj9z6upic.twitter.com/Ra0FwYQ7Is

— Omega Frequency (@omegafrequency) August 31, 2015
"She of course apologised that it made me feel that way, but beyond that, they didn't do anything."
Speaking to The Jerusalem Post, he added: "As a Jew who lost so many relatives in the Holocaust, they looked like the showers that the Jews were forced to take before entering the gas chambers.
"All the Israelis felt this was very distasteful. Someone called it a 'Holocaust gimmick'."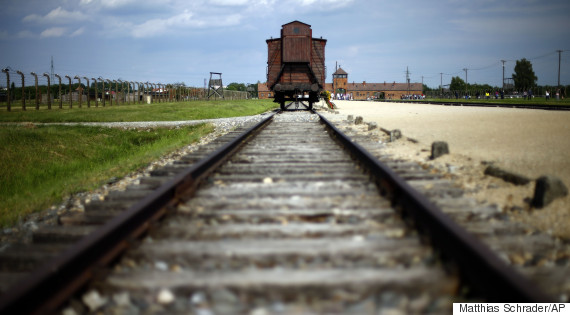 Railroad tracks leading to the Auschwitz concentration camp in Poland
The Holocaust saw the mass murder of six million Jews and around five million others including Gypsies, resistance fighters, Soviet prisoners and gays.
It is estimated that more than 1 million people were executed at Auschwitz alone, with the majority of victims believed to have been Jewish.
The museum has since officially responded to the outcry via its Facebook page, writing:
"Since there are articles about the mist sprinklers at the Auschwitz Memorial entrance published, and you also send us messages on Facebook, some explanation is needed:

"Because of the extreme heat wave we have experienced in August in Poland, mist sprinklers which cool the air were placed near the entrance to the Museum. They are located in one place - near the area where a queue of people who collect the entry cards to the Memorial is formed. This is a place in the open sun and without any possibility of hiding in the shade where sometimes you need to stand for quite a long time since the Memorial is visited by thousands of people every day. The sprinklers are installed on the days of highest temperatures and removed when the temperature drops

"Among visitors there are many people who come from countries where such high temperatures as we have this summer in Poland do not occur. "Something had to be done, as we have noticed cases of faints among people and other dangerous situations. Therefore we had to do everything we could to minimise the risks connected with the heat and high temperatures. The safety and health of visitors are our priority during the period of extreme heat. "Cooling air have been really helpful to visitors in this difficult situation.

"And one more thing. It is really hard for us to comment on some suggested historical references since the mist sprinkles do not look like showers and the fake showers installed by Germans inside some of the gas chambers were not used to deliver gas into them. Zyklon B was dropped inside the gas chambers in a completely different way - through holes in the ceiling or airtight drops in walls."