A mother-of-four and founder of Baby Resuscitation opened up about the "terrifying" moment she had to perform CPR on her youngest daughter.
Natasha Jones, 36, said she had just put Ava-Mai, then 11 weeks old, down for a nap but her son later told her she was blowing bubbles.
She told Tess Daley in an exclusive interview for Being Mum: "I thought it was unusual for a baby of her age to be doing that so I went to check.
"As I got closer to the cot I could see that she was very blue and as I picked her up she was floppy like rag doll, I thought I had already lost her."
Tess Daley and Natasha Jones
Jones continued: "I started doing what I thought was CPR and got one of my sons to go get their dad and say we need an ambulance.
"Then I gave her mouth-to-mouth, pressing her chest and stuff. It seemed to work."
Jones, who has four children - her stepdaughter Yasmin, 14, Jacob, nine, Ruben, eight, and Ava-Mai, four, said it took 36 minutes for her to get an ambulance which felt like "forever".
During that time, Ava-Mai started to breathe again but drifted in and out of consciousness, her eyes kept rolling to the back of her head.
Ava-Mai was transferred to the Intensive Care Unit at Southampton General Hospital, and slowly began to improve and, after a few days, made a complete recovery.
Although her daughter was fine, Jones said it was a terrifying experience and she couldn't sleep for months afterwards.
She said: "I know I nearly lost her but I am so very, very grateful to have her and I just love every moment with her now.
"But I thought I was becoming a paranoid mummy. I didn't want that to have an effect on the children and I wanted to show the children something positive."
Jones trained in hospital on how to resuscitate a child incase it happened again to Ava-Mai, but family and friends soon kept asking her how to do it.
She said at one point, admist the phone calls, her husband said: "You're going to have to set something up."
Jones founded Baby Resuscitation in 2010, a not-for-profit organisation to run training courses for parents to teach them how to resuscitate their children.
"Two mums have saved the lives of their children through it, which is fantastic," she added.
Speaking to HuffPost UK Parents about launching her business, Jones said it seemed like the next logical step.
She said: "For me, the project is about empowering people and giving confidence, by giving them these potentially life-saving skills.
"Our courses offer training from newborn through to preteens and we cover both resuscitation and choking.
"We ask for £10 per person to attend the course which contributes to venue hire, publicity and resuscitation officer fees, but if a person cannot afford this then we will cover their costs either personally ourselves, through sponsorship or private donations."
Jones said the aim of the community business is to train as many parents, grandparents or carers of children as possible.
She said she is desperate for her classes to reach further throughout the UK and is keen for more parents to undergo training.
Joe Mulligan, head of first aid education at the British Red Cross told HuffPost UK Parents: "It is every parent's worst nightmare but staying calm and knowing simple first aid skills could save a life."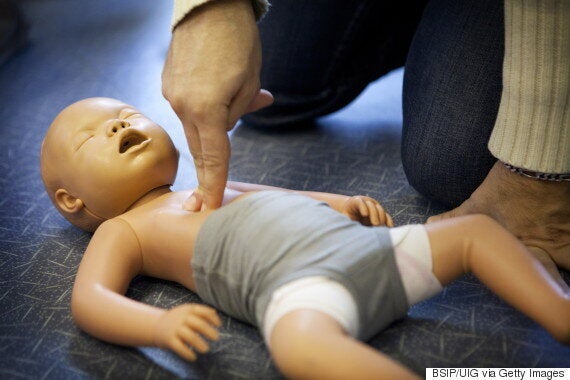 Mulligan listed four steps to follow when attempting to resuscitate a baby:
1. If a baby or child is unconscious, tilt their head back and look and feel for breaths. If they are not breathing, tell someone to call 999 straight away.
2. Give five rescue breaths (mouth-to-mouth resuscitation). Tilt their head back, seal your mouth over their mouth and nose and blow five times into the baby.
At this point, keep your fingertip(s) under the point of your child's chin and lift the chin. Don't push on the soft tissues under the chin as this may block the airway, recommends the NHS.
3. Give 30 chest compressions. Push firmly in the middle of their chest (on the breastbone) with two fingers if they are under one years of age, then release.
4. Give two rescue breaths, then continue with cycles of 30 chest compressions and two rescue breaths until help arrives.
During resuscitation, the NHS recommends to look, listen and feel for normal breathing.
To do this, listen at the child's nose and mouth for breathing sounds and feel for air movement on your cheek and look. Do this for no more than 10 seconds before deciding that they're not breathing.
If you do notice breathing from your child, turn them on their side.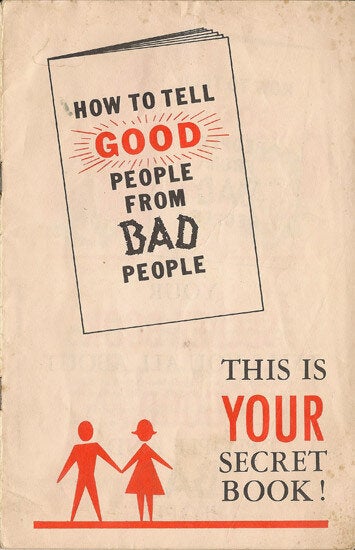 Vintage Safety Book For Children