Katie Piper met a mum-to-be who wants to give birth in the sea and use a dolphin as her midwife.
Piper met her as part of Channel 4's Extraordinary Births which airs on 2 September, where Dorina Rosin and her partner Maika Suneagle, from Hawaii, explained their birthing plan.
The couple felt it was a "natural" birth and Rosin said she thinks her child will be able speak dolphin. However many have slammed this as being an extremely "bad idea".
Speaking of the show, Piper told The Times: "I found the dolphin people a bit out-there but they seemed so happy and the woman was so relaxed."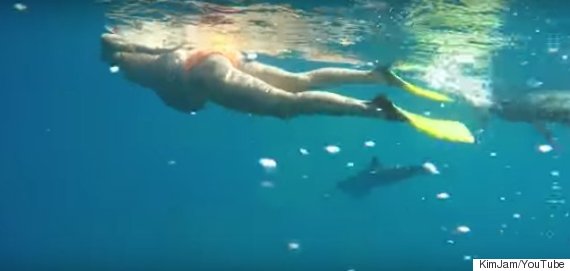 Spiritual healer Rosin and her partner told Katie Piper about their plans and said they were aware of the risks of other marine life in the water, too.
The couple run a healing retreat in Hawaii and believe in the healing power of nature and dolphin song.
Before giving birth, Rosin had what she called a "38-week blessing", where she swam heavily pregnant alongside the mammals in the water. In the video (shown below), dolphins appear swimming alongside her.
Speaking on Lorraine, on 1 September, Piper added: "Dolphins are clever and [Dorina] felt really connected to them. I thought, well it isn't for me but it's right for her. You know, happy mum, happy baby."
Commenting on a dolphin-assisted birth in Discover magazine, Christie Wilcox said this was a very "bad idea", adding: "No matter how cute they might appear, dolphins are not cuddly companions.
"They are real, large, ocean predators with a track record for violence - even when it comes to humans."
Others are airing their views on Twitter.
Majorly dumb. A woman is planning 2 have "dolphin-assisted" water birth in the ocean, despite warnings, like the dolphin may eat the baby.

— Margo Howard (@Margoandhow) September 1, 2015
Sorry, but dolphin "assisted births" are a terrible idea. http://t.co/hTnCT5WI2G #Tweet4Taiji #ShutTaijiDown #OpKillingbay #tweet4dolphins

— Fact Dolphin (@Fact_DoIphin) September 2, 2015
"Pregnant woman determined to give birth in the ocean with dolphin for a midwife"

Just when I thought white people couldn't get any crazier

— nalisa alia amin (@nalisaaa) September 2, 2015
SEE ALSO:

Woman Gives Birth To 10lb Baby In Moving Car As Calm Dad Films On A Go-Pro

Birth Photographer Updates Parents' Friends And Family With Real-Time Images Using #InstaBirthStory
In Rosin's blog, Song of Trust, she explained her connection with dolphins, writing: "In 2011 and 2014 I had the privilege to learn from and with wild and free dolphins and Humpback whales in Hawaii who transformed and healed me in a very profound way.
"I felt deeply called to spend two times three months in nature – mostly by myself – and to deeply connect to this magical place of beauty and transformation inside and outside which called me home."
In other extraordinary births in the show, one woman opts to keep her baby attached to the placenta until it falls off naturally.
Extraordinary Births airs on 2 September on Channel 4 at 10pm.