Professional surfer Maud Le Car has stunned viewers after riding waves donned in a black dress and a pair of high heels.
Footage sees her step into the ocean, following a dinner-party with friends, armed with a surfboard.
Le Car, who is currently ranked at 15th in the world, makes the task look like a stroll in the park and proves that if skilled enough - footwear doesn't matter.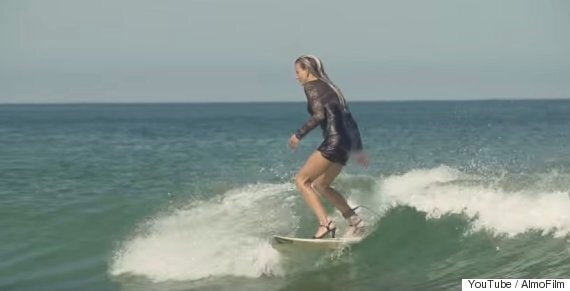 Volcom rider Le Car nonchalantly surfs in heels
Le Car's heels actually appear to grip onto the board as she completes turns across the waves.
The athlete, hailing from the French Caribbean, tweeted that she performed the stunt as she had "lost a bet".
Although despite these claims, some believe that the YouTube video was created as an advert for mosquito protection band Parak'kito.
It explains that 'surfing is one of the most physically demanding sports,' while describing Le Car as both 'glamorous and talented at the same time.'