Former Archbishop of Canterbury Lord Carey became the latest senior figure to call for a renewed military effort to "crush" Islamic State (IS) in its Syrian heartlands.
He also backed calls for British military intervention to help create "safe enclaves" within the country where civilians would be protected from attack by the warring parties in Syria's bloody civil war.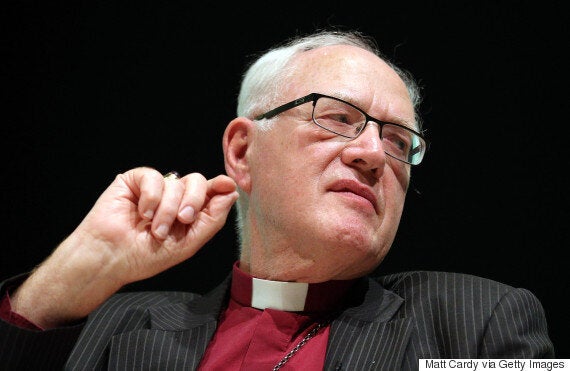 Lord Carey said IS had to be 'crushed' in Syria, their heartland
His comments echoed the growing impatience among some Conservative backbenchers with former defence secretary Liam Fox saying "handwringing" about the plight of the refugees was not enough and action was needed to deal with the "root of the problem".
"Rather, there must be renewed military and diplomatic efforts to crush the twin menaces of Islamic State and al-Qaeda once and for all.
"Make no mistake: this may mean air strikes and other British military assistance to create secure and safe enclaves."
Speaking to reporters at a meeting of G20 finance ministers in Turkey on Saturday, he said that meant dealing with the "evil" regime of Syrian president Bashar al-Assad as well as the militant jihadists of IS.
Nevertheless, Mr Cameron remains wary of staging another Commons vote on military action in Syria after his damaging defeat two years ago unless he can be sure of winning.
Mr Cameron reaffirmed in Madrid on Friday he would only order British bombers into action in Syria if there was a parliamentary consensus - behind airstrikes.
The weekend opinion polls offered conflicting evidence of the public support for military intervention in Syria with YouGov in The Sun on Sunday showing 52% in favour and 22% against while Survation in The Mail on Sunday had just 29% for and 48% against.
After Mr Cameron announced on Friday that the UK would take "thousands more" refugees, YouGov suggested that despite the outpouring which followed the death of three-year-old Aylan Kurdi, who drowned with his brother and mother, public opinion on the issue was divided.
It found while 36% wanted Britain to admit more refugees fleeing the fighting in Syria, 27% said the country should be taking fewer, with 14% saying it should not admit any at all.
No 10 has not yet put a number on how many it is planning to admit, however Downing Street sources said they did not recognise a report suggesting it could be as high as 15,000.
Meanwhile the former president of the European Commission Romano Prodi warned Mr Cameron will a price for his refusal to participate in a proposed quota scheme to distribute refugees around the EU - which would see 18,000 re-settled in the UK - when it came renegotiating Britain's EU membership.
"I do think there is a moral obligation, but I don't expect anything will be done [by the UK]," he told The Observer.
"This is a general problem, the contradiction of the British negotiation. I think it will not be easy for Cameron to have a positive deal in order to come back to London and say 'Look, I got a lot from Brussels'."