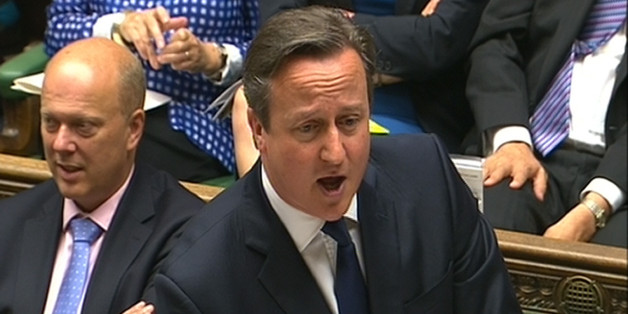 PA/PA Wire
It's the first PMQs after the summer holiday, and Harriet Harman's last before the new leader of the Labour Party is announced. So let's enjoy this momentous occasion by looking at what happened without all the usual shouting:
My dog threw up just as Cameron stood up for #pmqs I think that speaks for many people's feelings on the subject.

— Sarah (@Daisiver29) September 9, 2015
"I'll look closely at her Private Members Bill" totally sounds like a euphemism #PMQs

— Oliver Savory (@OliverJ0) September 9, 2015
Harman started by asking how many refugees the UK would take this year.
Harriet Harman calls for PM to put figure on how many refugees UK will take #pmqs

— Louise Stewart (@BBCLouise) September 9, 2015
*Serious issue faces* #PMQs

— Sarah Melv (@sarah_eyebrows) September 9, 2015
And Cameron dodged the question by paying tribute to Harman.
PM pays tribute to Harman, who's doing last #PMQs performance. 'Although we haven't always seen eye to eye, she's served with distinction'

— Paul Brand (@PaulBrandITV) September 9, 2015
Cameron pays tribute to Harman showing that Parliament is just a club for some - things will have to change next week #pmqs

— PamCrossland (@PamCrossland) September 9, 2015
Pm doesn't give a number. #pmqs

— emily m (@maitlis) September 9, 2015
Already excited for Corbyn at #PMQs next week

— James (@matkinsj) September 9, 2015
But she kept asking, seemingly missing out on one fairly major topic...
Nothing from Harman on drone strikes #pmqs

— Graeme Demianyk (@GraemeDemianyk) September 9, 2015
Tristram Hunt seemed like he'd overdone it down the pub last night...
Poor Tristram, we all know how tough it is being hungover at work #PMQs pic.twitter.com/ZJTHwMGYdA

— ERS (@EthanLDN) September 9, 2015
And so did George Osborne, but that's nothing new:
#PMQs Gideon looking shattered again on the Tory front bench.

— William Weinstein (@w_weinstein) September 9, 2015
But, remarkably, other things actually seemed to have changed:
If only every #PMQs was like this! Sensible questions being answered without any personal attacks, oh if only it would last

— Karl Lewis (@klewis1993) September 9, 2015
The SNP took the opportunity to bring up the drone strike, resulting in a return to the usual jeering from the backbenches:
Thankfully the SNP have the courage to bring up the drone strike #PMQs

— Rhys Cahalane (@RhysCahalane) September 9, 2015
Debbie Abrahams raised a question about Iain Duncan Smith's questionable comments about non-disabled people, and got the death stare:
@Debbie_abrahams Your #PMQs question attracted a glance... pic.twitter.com/0nWclDmyf7

— Rob McDowall MEA (@robmcd85) September 9, 2015
And they had a bit of a chat about the Rugby World Cup:
Cameron tells Commons he'd like nothing better than to see Wayne Rooney lifting the Rugby World Cup after a hole in one from Joe Root. #pmqs

— Peter Smith (@Redpeter99) September 9, 2015
But overall, it was fairly tame. But even that divided opinion.
Most boring #pmqs I've ever seen. Bring on Corbyn next week!!!!

— Andre Walker (@andrejpwalker) September 9, 2015
One of the best #PMQs I've been in. Serious stuff being talked about properly. Usually it's awful

— Jonathan Reynolds MP (@jreynoldsMP) September 9, 2015