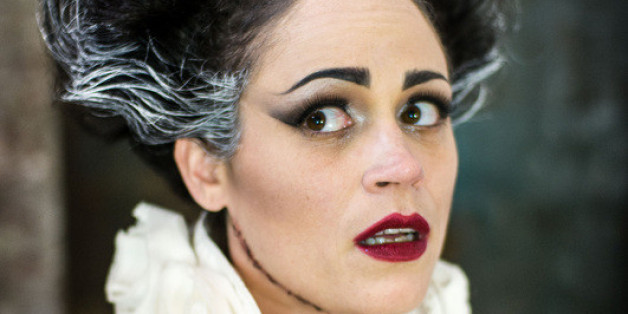 reggiebugmuncher.com
Had Reggie Bügmüncher been anywhere else on Tuesday, the world would have probably never known about the unusually named sideshow performer from Philadelphia.
Yet as she sat at the gate of Las Vegas' McCarran International Airport, Bügmüncher would become the star witness to an extraordinary event.
British Airways flight 2276 to London Gatwick had come to an abrupt halt during take off after a fire began to engulf the plane.
A stunned Bügmüncher would take a quick snap of the scene before her and upload it to Instagram.
Within minutes, she was inundated with requests for information on what was now a breaking news story.
Having talked to a journalist from the syndicated newswire Associated Press, Bügmüncher's words and her name seen across the world.
And now that it's known there have been no serious injuries in Tuesday's incident, Reggie's name has caused something of a sensation online.
And by Wednesday morning, she was trending.
Bless you Reggie Bugmuncher. And thank you. pic.twitter.com/sqGPgjYHpg

— Sean Teale (@seanjteale) September 9, 2015
I really need to get back to work but all I can think is 'why am I not called Reggie Bugmuncher?https://t.co/4OxYYdEFZk

— Alex Burford (@salomemaloney) September 9, 2015
Reggie Bugmuncher @reggiefaer will blow up Twitter after quoted in AP story on Vegas plane fire. Crazy google search. Fame begins now.

— Cameron (@lasportspage) September 9, 2015
@rachelkennedy84 Just read plane story while waiting for flight at Gatwick 😟 However, greatly cheered by Reggie Bugmuncher #WhatAName

— Corrie Corfield (@corrie_corfield) September 9, 2015
Glad everybody got off the LAS 777 safely. Looks like a nasty event. Massively impressed the BBC got a quote from 'Reggie Bugmuncher' though

— Jonny Lutton (@JonnyLutton) September 9, 2015
Do hope Reggie Bugmuncher uses her name to promote a more sustainable protein source. pic.twitter.com/jsvhYeWELs

— Josh Barrie (@joshbythesea) September 9, 2015
If I could do my life over again, I'd definitely want to be called Reggie Bugmuncher.

— Chris Donald (@ChrisDonald92) September 9, 2015
Imagine being called Reggie Bugmuncher 😂😂 pic.twitter.com/PWcS2FOzlF

— matthanley (@hanleymatt) September 9, 2015
British Airways plane catches fire in Las Vegas - or Reggie Bugmuncher's moment of fame 😄 http://t.co/bFYKSHn2xJ

— Fiona M (@fionaholly) September 9, 2015
And Reggie has certainly noticed the attention.
Some of these posts are amazing https://t.co/roiz2RRdA2

— reggiefaer (@reggiefaer) September 9, 2015
And here are some amazing pictures of her sideshow performances...