What do you do when your film has been given the thumbs up from critics across the board, except for one two-star review in a newspaper?
Well, according to the team behind Tom Hardy's latest outing, 'Legend', you go ahead and throw it on the poster and try to disguise it.
READ MORE:
The Kray Twins biopic, in cinemas now, has been almost unanimously praised by reviewers, which is evident in its poster - which appears to show a wall of four and five-star ratings behind Ronnie and Reggie Kray.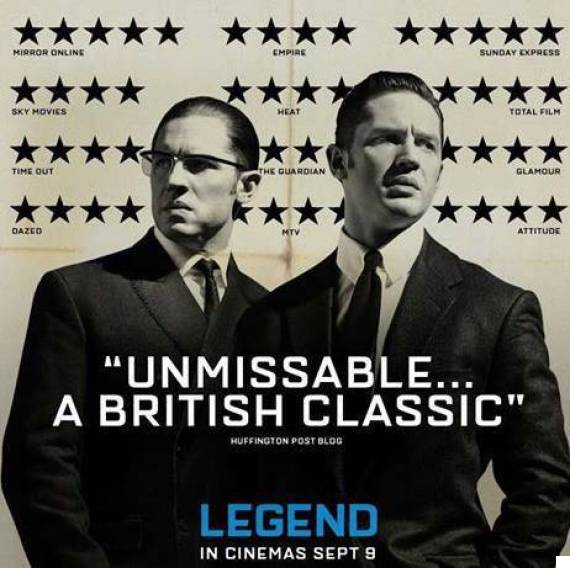 'Legend'
Looking a little closer, though, you might notice that this isn't actually the case - and a two-star rating from The Guardian can be clearly seen amid the other more favourable reviews.
You'd be forgiven for missing it, though, as the positioning of the film's leading actors, Tom Hardy and, errr, Tom Hardy, makes the review seem a lot less scathing.
Now that is how you turn a negative into a positive.
Even funnier still, the first one to point out the poster's subtle trickery was Benjamin Lee, the journalist who wrote the review in the first place.
On Tuesday night, he tweeted an image of the poster, alongside the comment: "Incredible way of making my two star review seem like I didn't hate the film."
Incredible way of making my two star review seem like I didn't hate the film pic.twitter.com/zvOyIxHQ3h

— Benjamin Lee (@benfraserlee) September 8, 2015
'Legend', helmed by Brian Helgeland, is one of the five Tom Hardy films we're being treated to in 2015, with the actor already having received critical acclaim for his leading role in 'Mad Max: Fury Road'.
LIKE US ON FACEBOOK | FOLLOW US ON TWITTER