A group representing leading British newspapers has sent a chilling message to the Labour leadership hopefuls by resurrecting the spectre of Ed Miliband eating a bacon sandwich.
A full-page advert in papers including The Times, The Metro and The Guardian warns that would-be Labour leaders should "beware" of the devastation a single picture in a newspaper can cause.
It features the infamous image of Miliband and his breakfast, which became ammunition for his enemies during the General Election.
Major Ed Miliband intervention in today's Metro. pic.twitter.com/REASwC5mol

— Siraj Datoo (@dats) September 10, 2015
"Would-be Labour leaders beware," the advert ominously reads, "Never underestimate the power of having your picture in the paper".
The ad is from Newsworks, a body representing major newspapers, to remind companies that print papers are still seen by 36 million people a month, despite dwindling readership figures.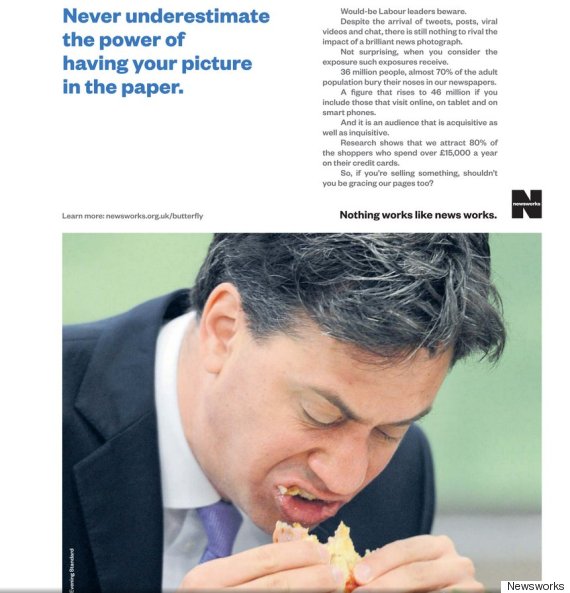 The advert is running in newspapers this week
The picture of the former Labour leader awkwardly eating the sandwich was published in The Evening Standard back in May 2014, after he visited New Covent Garden flower market in London.
The unfortunate image was subsequently used by right-wing papers and critics to ridicule him throughout the election campaign, in coverage that some believe lost Labour the vote.
The Guardian's media expert Roy Greenslade wrote that the right-wing press was "overwhelmingly responsible" for Miliband's loss, saying "I haven't a shadow of doubt that Ed Miliband lost because of newspaper coverage."
SEE ALSO:
The sandwich picture was resurrected on The Sun's front page two days before the General Election in May, as the Conservative-supporting paper's final attack on Miliband.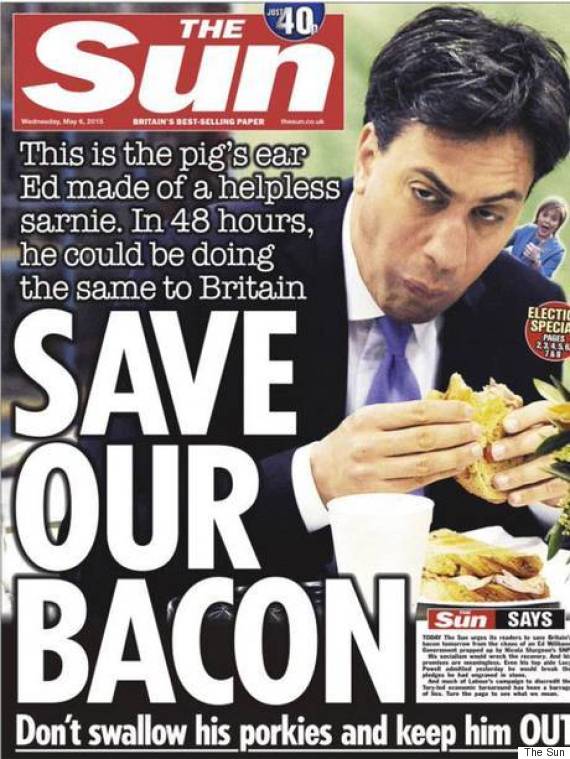 The Sun's front page on 6 May
The Sun, which sells nearly 2 million copies per issue, made a plea to readers to "Save Our Bacon" and not vote for Miliband, who then lost the election in a shock majority win for the Tories.
The use of the picture on the eve of the election prompted a backlash from Miliband supporters, who posted pictures online of themselves eating unattractively with the hashtag #JeSuisEd in solidarity.
#jesuisEd pic.twitter.com/gF19pKWC4Q

— Natasha Hodgson (@NatashaHodgson) May 6, 2015
#JeSuisEd #Solidaritysandwich (banana) pic.twitter.com/tVyl8cMvdH

— Ms Gray (@Bentwelly) May 6, 2015
I'm with Ed. #SolidaritySandwich #JeSuisEd pic.twitter.com/tg2zEYKkoG

— Panny (@Pannypannypan) May 6, 2015
#JeSuisEd pic.twitter.com/fg7M1aVy2z

— Ryan Barrell (@RyanBarrell) May 6, 2015
@Ed_Miliband Hate the papers today, but love a sarnie. #JeSuisEd Je suis you! pic.twitter.com/516Cg1ZccY

— Fwestivus (@Fwestivus) May 6, 2015
Me and my cucumber lunch #JeSuisEd pic.twitter.com/sfaCNh61Qi

— Fifi Manson (@fifi_manson) May 6, 2015
Oh no, not again! Sandwich up the nose. #JeSuisEd pic.twitter.com/1dtY3c2uYi

— Dicky Moore (@dickymoo) May 6, 2015