"I rarely order a pizza without asking about the origins of the pepperoni," says 32-year-old Andy Waugh, founder of the recently-opened Mac & Wild restaurant.
The Scottish-born and raised food entrepreneur is passionate about trying to change the British public's attitude towards eating meat.
"I'm pretty sure I'm an irritation to my friends but I don't need to eat food that has had a sad, depressing or brutal life."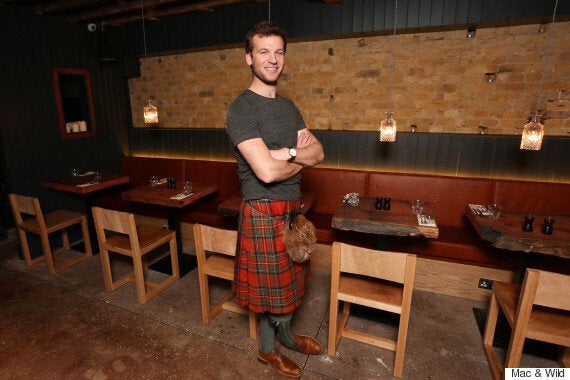 Restaurant entrepreneur Andy Waugh is passionate about sourcing produce sustainably
Waugh firmly believes restaurants and food outlets need to be more open about the source of their produce, saying he does not eat meat if he doesn't know how it was produced and slaughtered - and he's a big advocate for buying British.
"There is no need to eat intensively reared meat when we have so much amazing produce growing on our doorstep," he says. "The food industry needs to be more environmentally responsible.
"But saying that, I think everyone needs to think about the effect they are having on the environment. Too many people - including myself on occasion - are too far removed from where their food comes from and how it gets there."
Waugh's passion for sustainable produce comes from his family. He grew up in a tiny village called Ardgay, one hour north of Inverness, which he describes as "the centre of my universe".
"I suppose the main inspiration was, as a kid, loading lorries every Saturday bound for Norway.
"My family have a business butchering game from the neighbouring estates. They export 80% of their produce to Scandinavia and the rest of Europe. I guess they are the reason I'm doing what I'm doing and where I get my love of Highland produce.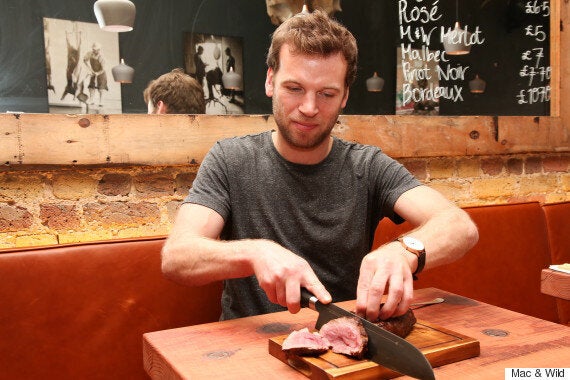 Waugh carves up a venison Chateaubriand
"My dad has done an amazing job with his business. The industry has gone through some terrible times - food and moyuth, BSE - but has somehow, by the skin of his teeth, managed to pull through.
"He's always preached about the welfare of the staff in any business and that you're only as good as the people that work there."
Waugh is also keen to make game accessible to those from all walks of life - not just the upper classes who can go out on shoots.
"The customers out there would call up the next week praising the amazing venison they received," he explains. "Whereas in the UK it used to be the case that venison was only for 'posh people' and tasted 'gamey'. I like to think that perceptions have changed a little. Our venison costs us less than our beef!"
Waugh established Mac & Wild, which resides on Great Titchfield Street, central London, after setting up a street food business called Wild Game Co, which he says began after he noticed the lack of affordable quality game in the capital.
But his ethical kill-to-eat approach has faced a few challenges in London, where consumer culture is almost intrinsic.
"We very recently had a table of customers up in arms because we'd run out of venison," he recalls. "They said 'it was unacceptable for a central London restaurant to run out of their specialist product!' They even left us a scathing review on TripAdvisor. They were people in the service sector and even they don't appreciate how it gets there."
Waugh continues: "We can't just call up the butcher or farmer and order more meat. To get one deer on a plate means a trained hunter has to go out on the hill and shoot a stag or a hind - usually this will take a whole day and quite often ends up with nothing."
The entrepreneur takes great care in educating his staff too, recently taking his chefs up to the restaurant's beef supplier MacBeths.
"They love and care about their animals. One of our chefs, who's worked for Heston [Blumenthal] and been a chef for eight plus years, really understands food and loves meat. But he didn't appreciate the reality of it. He was blown away by the care that went into the cattle and details they go to keep the animals happy and produce an amazing end product."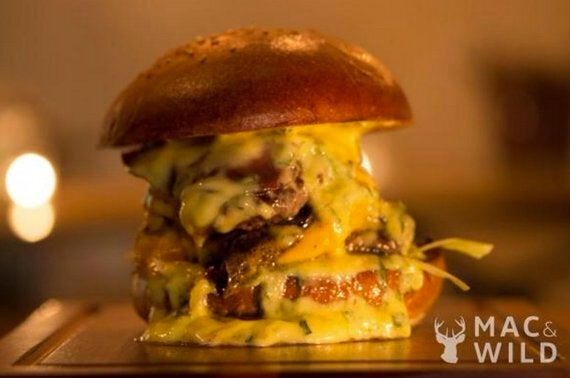 The VeniMoo: a burger with a conscience
Although Waugh admits he found it difficult to start Wild Game Co - Mac & Wild is a subsidiary - he says making the move from pop-up to permanent was "great".
"It wasn't so much starting the original business, but more getting the balls to quit my job and start out on my own. When I started Mac & Wild, I took on two business partners who bring a lot to the table and made it a lot more smooth. However, the process of finding a site, funding, planning, building and recruiting was a long process.
"I made a lot of mistakes along the way but by doing popups and street food, we've managed to build a lot of brand loyalty and experience."
And his advice to others starting out?
"You can plan and plan and plan and still not be ready. It is better to get started and get your product out there then start making adjustments."
"I also recommend you get your back of house in order ASAP - this will make your life 10 times easier."
Ever the ethical advocate, he adds: "You can make environmental changes in every part of your business - from the way you do your accounting to your packaging.
"And, if you do go environmentally crazy you must make a big song and dance about it."
Related