Jeremy Corbyn has appointed Angela Eagle as shadow first secretary of state amid accusations of sexism after he handed the top jobs in his shadow cabinet to men.
Late on Sunday evening Labour's new leader appointed his key ally John McDonnell as shadow chancellor, as several senior figures who served under Ed Miliband either refused positions or were not offered jobs - including Chuka Umunna.
Andy Burnham is Labour's new shadow home secretary. Mr Burnham, who came second in the Labour leadership contest, replaces fellow defeated contender Yvette Cooper in the role.
Hilary Benn remains shadow foreign secretary.
Mr Corbyn's decision to hand the home affairs, foreign affairs and Treasury briefs to men has proved controversial. One Labour MP said it made her "very sad".
Labour's new deputy leader is also a man, Tom Watson. He replaced Harriet Harman when he was elected by party members on Saturday.
However several women have been handed key positions and Cobyn's shadow cabinet is expected to be majority female when it is complete.
In recent days it had been suggested Ms Eagle would be made shadow chancellor. Instead she has been made shadow business secretary.
Ms Eagle's additional appointment as shadow first secretary of state means she will face George Osborne at prime minister's questions when either David Cameron or Mr Corbyn are away.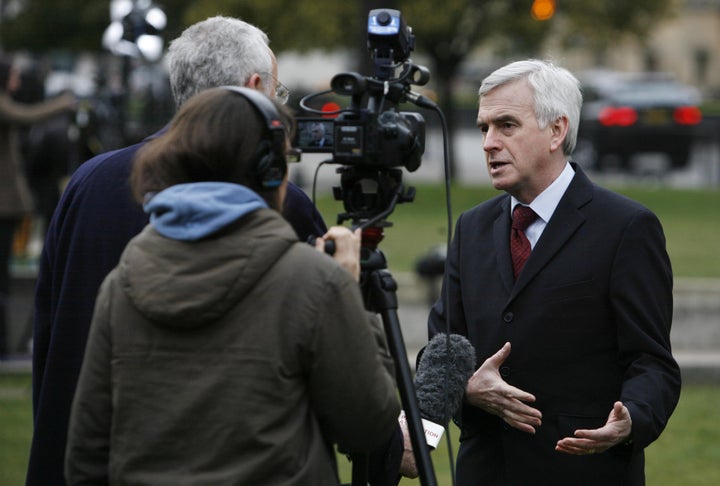 Labour's new shadow chancellor John McDonnell will face George Osborne
Reacting to the news live on radio as it filtered through, Labour MP Mike Gapes initially appeared not to believe McDonnell had been appointed to the shadow chancellor job.
"Well, I, hmm, are you sure about that?" he said when told by BBC presenter Carolyn Quinn. "Personally I think that means it is a shame. Because there was speculation Angela Eagle might be a contender. It would mean if that is the case, all the top jobs will be held by men."
He added: "It is unfortunate we don't have any women in foreign affairs, home office, or in the Treasury, in the leader or deputy leader."
Labour MP Jess Phillips told The Huffington Post that she was "very sad" at the lack of women in the top shadow cabinet jobs.
Diana Johnson, who at the time she sent the tweet was a shadow home office minister, expressed her disappointment at the "old fashioned" male dominance of the shadow cabinet.
Speaking on the BBC's Today programme this morning, Benn defended the appointment of men to the top three jobs in the shadow cabinet.
He said the idea that the Treasury, Home Office and Foreign Office jobs were the most senior positions was "old fashioned".
He added: "It all depends on your definition of 'top job'."
Diane Abbott, one of Corbyn's most keen supporters, is the new shadow international development secretary.
Heidi Alexander will replace Mr Burnham as shadow health secretary. And Lucy Powell, a close ally of Miliband, has been made shadow education secretary.
Seema Malhotra has been appointed shadow chief secretary to the Treasury under McDonell. And last night it was announced Rosie Winterton would continue as Labour's chief whip.
Other appointments see Lord Falconer remain as shadow justice secretary while Vernon Coaker moves from shadow defence secretary to shadow Northern Ireland secretary.
Shadow chancellor - John McDonnell
Shadow foreign secretary - Hilary Benn
Shadow home secretary - Andy Burnham
Shadow business secretary - Angela Eagle
Shadow health secretary - Heidi Alexander
Shadow justice secretary - Lord Falconer
Shadow education secretary - Lucy Powell
Shadow international development secretary - Diane Abbott
Shadow chief secretary to the Treasury - Seema Malhotra
Chief whip - Rosie Winterton
Earlier on Sunday evening, Mr Umunna announced he was leaving his position as shadow business secretary "by mutual agreement" after a discussion with Mr Corbyn.
In a statement posted online, Mr Umunna said there were "a number of key points of difference on policy" between himself and Mr Corbyn, including on the position Labour should take in the EU referendum campaign.
The now former shadow Northern Ireland secretary Ivan Lewis also revealed he had been sacked by Mr Corbyn, despite offering to stay on to help deal with the current crisis in Stormont.
Other senior figures to step down or not to be offered jobs include Tristram Hunt, Rachel Reeves, Emma Reynolds and leadership candidates Cooper and Liz Kendall.
Mr Umunna said: "If Jeremy's clear victory yesterday demonstrated anything, it was a desire for politicians to be true to what they believe – I want to abide by this.
"Also, Jeremy should be free to appoint a Shadow Cabinet committed to implementing the policies on which he campaigned in the contest – I clearly had some differences in view on how we build a more equal, democratic, free and fair society.
"Given these differences, not least on the European referendum, I would find it difficult to abide by the collective responsibility that comes with serving in the Shadow Cabinet. That is why Jeremy and I have agreed I can more effectively support his leadership from the backbenches.
"In particular, it is my view that we should support the UK remaining a member of the EU, notwithstanding the outcome of any renegotiation by the Prime Minister, and I cannot envisage any circumstances where I would be campaigning alongside those who would argue for us to leave – Jeremy has made it clear to me that he does not wholeheartedly share this view."