The five things you need to know on Monday September 14, 2015...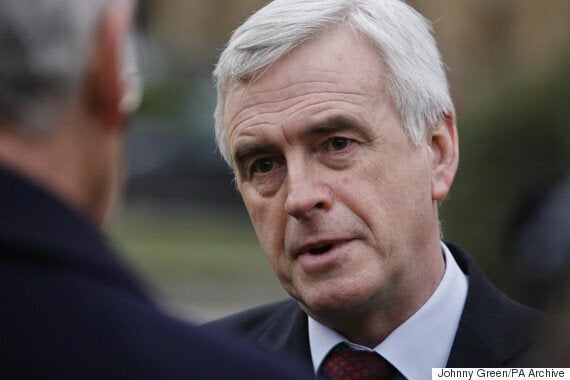 1) WORKERS' FOUR-MEN IN CHARGE
Jeremy Corbyn's Shadow Cabinet reshuffle last night looked very much like an exercise in trolling much of the media: leaving it so late it was beyond newspaper's deadlines and it only just made the TV news.
There was a swift social media backlash to his decision not to appoint any women to the top jobs of shadow home, foreign and chancellor. Corbyn, John McDonnell, Hilary Benn and Andy Burnham now head the party's senior posts. With Sadiq Khan the London Mayor candidate and Tom Watson the deputy, it wasn't a good look at all. But perhaps stung by the criticism, Team Corbyn announced after midnight that Angela Eagle was now Shadow First Secretary of State and would deputise at PMQs up against George Osborne when the PM was away.
But Corbyn supporters believe he's such a feminist that the top four jobs is a sideshow. Ex-MP Lynne Jones Tweeted to me last night: "Jeremy voted against cuts in lone parent benefits - was shocked at large no of women MPs who didn't". We will get a 50% women shad cab, and Gloria de Piero could get defence, and Lucy Powell education. Heidi Alexander at health and Seema Malhotra at shad chief secretary are all out to prove this is not a pale, male Labour party. Still, keep an eye for Owen Smith, a possible shadow work and pensions secretary.
McDonnell's appointment has already prompted recalls of his shocking remarks about the IRA and assassinating Thatcher. But it's more his factionalism that worries many colleagues. The big task is convincing the public on his plan for more borrowing (he talked about eliminating the deficit and 'living within our means' overnight). Will Corbyn appear at the Varoufakis event tonight to expand on all this?
Hilary Benn, on the Today programme, was asked if he was 100% behind McDonnell's appointment: "I respect the choice that Jeremy has made about leader....I welcome everybody who is serving in Jeremy Corbyn's Shadow Cabinet." "Our principle task is to win the people's trust on the economy. [that's] John's first and last task as Shadow Chancellor". Others wonder if Corbyn engaged in game theory, not telling colleagues about the McDonnell appointment until after they agreed their own jobs.
Benn echoed Tom Watson yesterday though in pointing out Corbyn can't change policy by diktat. "It will be for the shadow cabinet and then ultimately the Labour party to decide our policy"
Was Chuka Umunna sacked or did he resign? He was 'not offered a job', I'm told, but that doesn't really shed light on whether he tried to negotiate to stay. By making support for the EU a test of his remaining in post, Umunna is positioning himself for the future, undoubtedly. And many non-Corbynites (like Yvette Cooper) will now coalesce around Labour's In campaign as their main focus. Alan Johnson's role leading that campaign looks more and more like the last redoubt of the 'moderate' mainstream of the party.
Hilary Benn must have been given other assurances that Umunna didn't get. He told Today: 'Jeremy has made it clear... we will be campaigning to stay in the European Union'. Still, Corbyn didn't rule it out when I asked him directly to do so in July.
In his interview with me for The HuffPost UK within minutes of his victory on Saturday, Corbyn made clear he felt he had a mandate to fight the 2020 general election - despite the PLP's grumbles, and even if he suffered setbacks in local elections, byelections and the polls. This is significant because in an age when pollsters are distrusted (though YouGov did well in forecasting a Corbyn victory), the only true test of Corbyn's Labour will be at the ballot box. Michael Dugher - who could get a Shadow Cabinet job - warned last week Labour would lose 'hundreds' of councillors next May. The Holyrood elections look lost already. And if Labour loses a by-election to UKIP or the Lib Dems or Tories, that's the trigger many MPs think could spark a coup.
It's the Parliamentary Labour Party meeting tonight at 6pm. Popcorn.
Corbyn isn't lurching his party left, he's marching them there (expect him on a lot more marches like Saturday's refugees demo), fuelled by that enormous mandate (among full members, not just the new supporters).
But David Cameron wasn't slow yesterday to tweet what is certain to be the Tories' 2020 election poster:"The Labour Party is now a threat to our national security, our economic security and your family's security". The Sun splashes today on Corbyn's remarks in 2012 that it would be 'wonderful' if every nation abolished their army.
And it's on defence - as well as immigration, economic credibility and benefits - that Corbyn has his work cut out in wooing back voters in key marginals who defected to UKIP and the Tories in May. Not for nothing did Dan Jarvis declare before the result - on Friday's Any Questions - that he would not serve as a Shadow Minister under Corbyn.
In a Mirror oped today Corbyn talks about 'defending the welfare state we created' and his line opposing tax credit cuts will unite the party. But what is his pitch on welfare reform and 'fairness'?
Don't forget Tom Watson feels he too has a strong mandate. And Watson's firm line on Nato and Trident yesterday on Marr underlined Corbyn may not want to radically change policy in the face of trade union unease.
Some Tories are wary of revelling in Corbyn's election. Nick Hurd Tweeted on Saturday "Caution my party against complacency. Cocky Tory always a bad look. #one nation." David Davis too 'complacency' would be the Tories 'daftest' response to Corbyn.
David Miliband didn't exactly rule out returning to British politics this morning. On Today, he stressed he was focused on the refugee crisis: "I think the British people understand that that has got to be my focus....My overriding thought is that there is a time and place for everything...a commentary on the Labour situation is going to have to take second place.." But pushed on any return to the UK, he said: 'People respect the fact that different people have different roles...take different choice...we are were we are."
The Commons September sitting is a weird time, often with Governments struggling for legislation to put through. But the Tories have decided it's the perfect time to embark on some top trolling of their own: putting the Trade Union Bill on the agenda on the day the TUC starts, and ahead of Labour's conference, looks deliberately provocative.
And plenty have been provoked. Mark Serwotka of the PCS may have been excluded (under 'entryism' rules) from voting in the Labour leadership, but he certainly has Corbyn's ear. Yesterday he said "We have the ability to stop austerity in its tracks, to topple this government and to ensure we get a fairer society." Rob Williams, of the National Shop Stewards Network said: "The message must be simple – 'Cameron: we are going to take you down." Not surprisingly, plenty of papers have picked up on all this as a vow by unions to lead civil disobedience and strikes.
Frances O'Grady used Today to again repeat her opposition to plans to 'bus in' workers to replace strikers (very Ronald Reagan) and on the new restrictions on picketing including social media warnings. O'Grady's pitch was to sound as moderate as possible, pointing out that Vince Cable had described the plans as 'vindictive' and yesterday David Davis told Murnaghan he was worried about 'Franco's Britain' sections of the bill, such as telling the police names of picketers.
But Boris Johnson has been leading the way on the strike crackdown (even though it wouldn't have stopped the Tube strikes) and last night urged Corbyn to support the Bill, saying this could help his "arduous climb towards electoral credibility". Trolling indeed.
BECAUSE YOU'VE READ THIS FAR...
Nicola Sturgeon was among the first to highlight he lack of a woman in Labour's top-four shadow jobs (and Angus Robertson attacked the fact that Falconer is unelected) last night.
And although Stuart Hosie said yesterday he welcomed a 'progressive alliance' with Corbyn, many in Labour think it was not a coincidence that the SNP finally decided to start talking about independence again on the very day of Corbyn's victory on Saturday.
The 'triggers' for independence will be unveiled in the party's Holyrood manifesto and Sturgeon's tweet within minutes of JezHeDid announcement sounded ominous. She said that 'If Lab can't quickly show that they have credible chance of winning UK election, many will conclude that Indy only alternative to Tory gov'. That sounded very much to me like she was saying Corbyn couldn't beat the Tories and underscored that the referendum was more about identity than policy. But Sturgeon tweeted me back to say
'on contrary, look forward to working with him on austerity, Trident etc. Qn is can he unite Lab to beat Tories in UK? We'll see.'
Corbyn is due to visit Scotland this week. Few expect him to make serious inroads into SNP support next year. But the bigger question is for David Cameron: will he allow a second referendum, having said last year's result was 'decisive' and should put the issue beyond doubt for a 'generation' (quoting Salmond)? Hosie warned that would be 'very, very foolish indeed'.
David Cameron has this morning visited one of the Syrian refugee camps in Lebanon and is determined to prove his government is responding to public concern, without tearing up his hard line on migration as a whole.
Germany may be one of Europe's most liberal countries, but its people have never stopped liking order. And Angela Merkel's shock decision to reimpose border controls with Austria proved that she wants to jolt the EU into real action on quotas. EU home affairs ministers meet today, so the timing is bang on.
The move was described as 'temporary', but let's see how long that lasts. It underlines that no country can have an 'open door' policy on immigration or asylum, not least because of the sheer logisitical problems in processing people.
David Miliband, in Lesbos for the IRC (which helped 850 people travel 40km yesterday to safe transit camps), told Today that 'Europe has seen a turning point' this summer and that 'beggar thy neighbour' policies on asylum were not the solution.
If you're reading this on the web, sign-up HERE to get the WaughZone delivered to your inbox.
Got something you want to share? Please send any stories/tips/quotes/pix/plugs/gossip to Paul Waugh (paul.waugh@huffingtonpost.com), Ned Simons (ned.simons@huffingtonpost.com), Graeme Demianyk (graeme.demianyk@huffingtonpost.com) and Owen Bennett (owen.bennett@huffingtonpost.com)