A woman was left with a bloodied mouth after being struck by a male passenger on a London bus in a dispute over her shopping trolley.
In footage captured on a mobile phone and uploaded to Live Leak under the title 'Transit Fight: African Grandma vs Rude Boy', the victim is seen trying to pass the male passenger, while pulling a trolley.
An altercation begins when the woman asks the man, who is sitting down and wearing sunglass, to allow her to pass.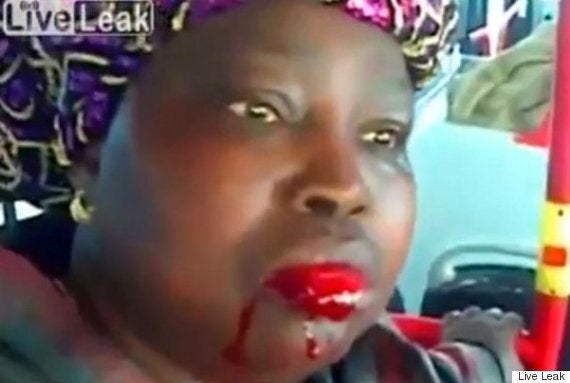 The woman was left with a bloodied mouth after the confrontation with a male passenger on the bus
The conservation soon becomes heated, and the man yells at the woman, "Why you pushing? Are you stupid?"
The woman, who takes a seat across from him, later responds, saying: "You're blocking the way. You are not supposed to block the road, this is not your house. You have no manners."
"Yeah, yeah, yeah," the man responds while putting his hand dismissively in the woman's face.
In the video, which is around five minutes long, the argument goes back and fourth before the man, strikes the woman in the face.
The woman tries to retaliate, jumping out of her seat, but the bus driver stops the vehicle.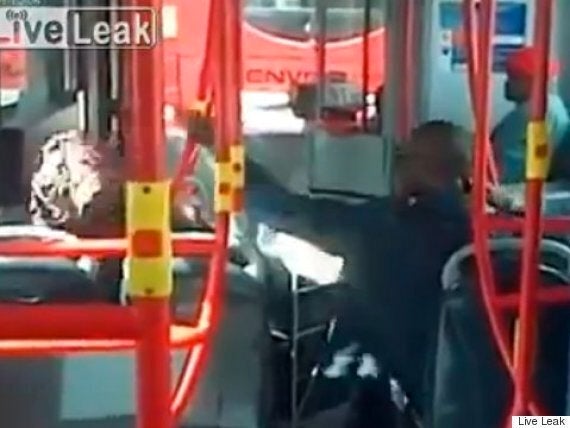 The man is seen striking the woman in the face
She then shows her bloodied mouth to the passenger filming the altercation, while telling her attacker, who is now trying to hide his face, "I'm bleeding you can't go anywhere".
As the footage ends the bus driver appears to be calling the police.
It is unclear whether a complaint has been made to police, but officers from Southwark Safer Transport Team are assessing recorded footage, "showing an incident on a bus where a woman is assaulted", a spokeswoman said.
She said officers were trying to establish when and where the footage was taken and are appealing for anyone with information to contact them.
Transport for London referred the matter back to police, who they said were handling the incident.