A four-year-old girl hasn't had a birthday party for four years because the excitement could be life-threatening.
Isla Smith, four, has Dravet syndrome, a rare form of epilepsy where lethal seizures can be triggered by excitement, temperature, water and when she eats.
She was diagnosed with the condition at 14 months old and since then her parents, Claire and Jason Smith, and sister Ruby, eight, have tailored their lives to fit around her condition.
Mrs Smith, 37, an administrator from Dewsbury, Yorkshire, said: "I have to push it to the back of my mind, but every big seizure Isla has I can't help but worry that it will be the last one." Mrs Smith continued: "She could have a seizure and be gone. She's a ticking time bomb that could go off at any time.
"We would love Isla to just be a normal four-year-old and enjoy life like she should.
"Isla's birthdays are always a big milestone for us, especially last year as I never thought she would get to see her fourth, but unfortunately we have to keep these as low key as possible.
"Her sister Ruby has seen things that an eight year old shouldn't see.
"It got to the point where Isla was having so many seizures we couldn't protect her from it any more."
Isla had her first seizure aged eight weeks old, shortly after a routine vaccination. She had her first big seizure on New Year's Eve in 2011.
Her mum said: "She had one before but it was over before we even had time to react, this time my husband filmed it.
"We took her to the doctors and were able to show them the video.
"They said she looked like she was having convulsion, but she kept having them and I knew something wasn't right."
Isla then endured months of tests, including MRIs, CTs, lumbar punctures and blood tests, before doctors admitted they still did not know what was wrong. Mrs Smith said: "I was devastated. How did they not know what was wrong?
"They tried different medications but they seemed to be making it worse. We were going back every couple of weeks.
"We kept calling the ambulance and they would ask what was wrong but we couldn't tell them."
At nine months old Isla had a seizure that lasted three hours. She was put into an induced coma and suffered brain damage.
She reverted back to being a newborn and could not even suck a dummy.
As a result Isla does not walk or talk and is fed through a gastrostomy. A genetic test eventually revealed she had a mutation of the SCN1A gene, which links to Dravet Syndrome.
Mrs Smith said: "Jason and I hadn't heard of it. It's a life-threatening severe form of epilepsy.
"We thought that would be that once we had a diagnosis, but there's no cure.
"We had to be tested but they didn't find the gene. They don't know if the vaccination triggered the mutation or not.
"The seizures kept coming. It was trial and error to find which combinations of medications worked."
In 2014, aged three, Isla took a turn for the worse.
Her mother explained: "We didn't know if she was going to live or not. It was very scary.
"They told us to get the family to say goodbye because they didn't think she would make the next 36 hours.
"Thankfully she pulled through but it took six months to get her back to how she was, and a lot of hard work.
"She had to go through a drug-wean programme as she was in PICU in Sheffield for six weeks and was addicted to the drugs."
Isla is now on three different drugs to keep her condition under control, but she still has seizures.
Mrs Smith said: "Dravet Syndrome UK have been great and helped fund life-saving equipment.
"Thanks to them we can have a nice weekend where we feel normal.
"We also bought a static caravan two years ago so we could go away. We can't go on a plane - we couldn't even dream of it.
"So many deposits on holidays fell through because we had to cancel because Isla was sick and Ruby wouldn't go without her or with other people.
"Ruby would be looking forward to it and then the day before she would realise we couldn't go. We must have lost thousands.
"We got all the money we had in our savings and bought the caravan so we could go when Isla was well. It's close to a hospital and close enough to home.
"It's nice to get a little break as a family."
Doctors cannot tell the family the life expectancy for Isla, although some people with the condition can live to adulthood.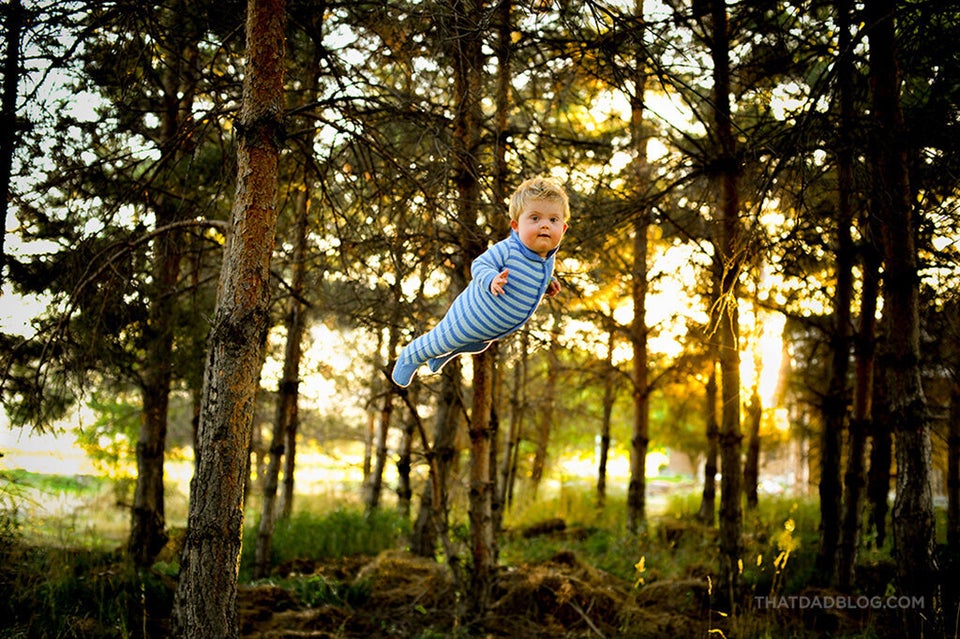 Dad's Photos Of Son Flying Hope To Raise Awareness For Down's Syndrome