Jeremy Corbyn will not deploy questions from the public each week when confronting David Cameron despite tearing up the rule-book at his first Prime Minister's Questions as Labour leader.
Drawing from 40,000 questions submitted by the general public, Mr Corbyn told MPs he was bringing in a "new politics" as he named the six people who he was asking questions on behalf of: Marie, Stephen, Paul, Claire, Gail and Angela.
But it emerged tonight Mr Corbyn would vary his tactics each week, sometimes asking questions submitted and sometimes his own. The Prime Minister will get no warning on how the six questions will be delivered.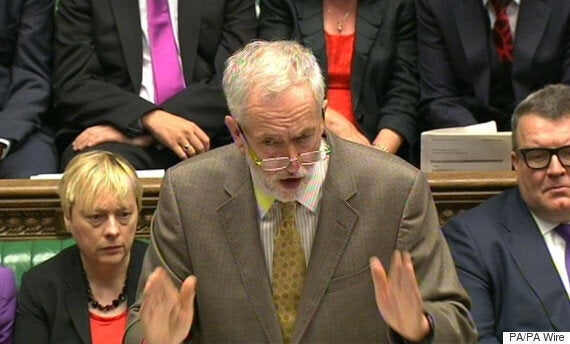 Jeremy Corbyn on his Prime Minister's Questions debut
Introducing his new format, the veteran left-winger said: "Many told me they thought Prime Minister's Questions was too theatrical, that Parliament was out of touch, and they wanted things done differently. But above all they wanted their voice heard."
Mr Cameron signalled he welcomed the change. "If we are able to change Prime Minister's Questions and make it a more genuine exercise in asking questions and answering questions, no-one would be more delighted than I," he said.
The session dispensed with the gladiatorial approach that is typical, which resulted in a marked lack of braying that critics often bemoan. But critics will point to the lack of supplementary questions which allows the Prime Minister to escape scrutiny of his answers.
Wearing a taupe suit jacket and gold tie, Mr Corbyn entered the chamber, flanked by deputy Tom Watson and Shadow Chancellor John McDonnell, to no ovation from his MPs, despite his thumping victory.
By contrast, David Cameron took his seat to whoops of delight from his MPs.
A Labour spokesman would not say whether all 40,000 questions had been read by Mr Corbyn, but added: "He looked at the questions that most came up and worked them into his own priorities of housing, tax credits and mental health."
One senior Labour MP told The Huffington Post UK the change "sort of worked for both of them".
"Corbyn was not humiliated, and changing the tone worked for him, but the Prime Minister looked like a Prime Minister and the lack of follow-up questions makes it easy for him," he said.
It has been a bruising start to Mr Corbyn's leadership after struggling to piece together his shadow Cabinet and facing criticism even from his own front bench for not singing the national anthem during Tuesday's Battle of Britain memorial service.
Mr Cameron, asked about the commemorations by a Tory MP, attempted to make hay from the fall-out, remarking on a "moving service" at St Paul's Cathedral and paying tribute to the armed forces.
Britain was the "only thing that could stop Hitler and Nazism". "It's a reminder of how proud we should be of our armed forces today, then and always," he said, the jibe obvious.
Mr Corbyn said the PM should welcome his new thinking since he too backed reform of PMQs in 2005. "Something seems to have happened to his memory in that period," he noted.
The Islington MP was given more time than is usually permitted by Speaker John Bercow to set out his stall, before revealing 2,500 people had emailled with a question about the housing "crisis".
"I'll ask one from a woman called Marie," he told the chamber. "What does the Government intend to do about the chronic lack of affordable housing and extortionate rents charged by some private sector landlords?"
Mr Cameron defended the Tory record, saying it had delivered record numbers of affordable and council houses but "much more needs to be done", before extolling his policies including Help to Buy.
"We won't get Britain building unless we keep our economy growing," he added, an answer designed to suggest Labour's competence on the economy is questionable under his leadership.
The format was repeated five more times.
"Stephen" posed a question on the impact of austerity on housing associations, and "Paul" wanted to know more about the "shameful" cuts to tax credits, telling the Labour leader: "We need this money to survive so our children don't suffer. More is needed to stop us becoming reliant on food banks to survive."
"Claire", married with five children, also wanted to know about reform to tax credits, saying the cut would would see their income "plummet". He got over 1,000 questions on mental health services, with "Gail" claiming the NHS was "on its knees" and mental health worker "Angela" raising the issue of the shortage of beds.
Mr Cameron, unflustered, went through the Government's record and each time referenced how economic stability was the bedrock to all the issues, and repeatedly criticised Labour's apparent devotion to "unlimited spending".
He even turned the tables when being heckled from the Labour benches: "I thought this was the new Question Time. I'm not sure the message has fully got home."
Despite reservations among some in the days leading up to the half-hour session, Labour MPs reacted favourably on Twitter.
The SNP's Mhairi Black offered her backing:
But some Labour supporters were more sceptiical: