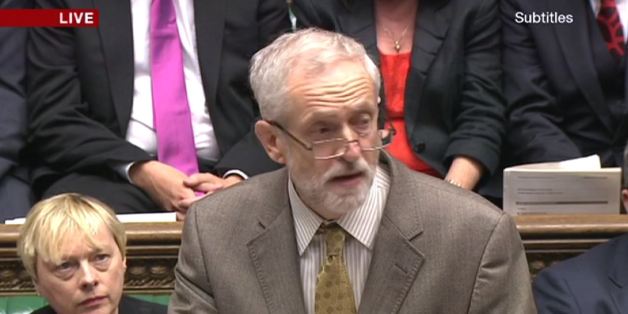 It's Jeremy Corbyn's first ever PMQs as the Labour leader, and we're VERY excited. We're assuming you are too.
But if you don't want to watch it because of all the inevitable shouting and jeering, here's everything that happened without all the noise:
Labour sources say @jeremycorbyn will sing national anthem at future events

— norman smith (@BBCNormanS) September 16, 2015
Jeremy Corbyn started off by reading out questions submitted by voters:
Kind of love that Corbyn has crowd-sourced his questions. Simple form of participatory democracy. #PMQs

— Siobhán de Paor (@shivface) September 16, 2015
And David Cameron ACTUALLY GAVE AN ANSWER:
A new kind of politics. #PMQs

— Andy Slaughter MP (@hammersmithandy) September 16, 2015
More or less everyone was trying to guess what the crowdsourced questions would say:
"I'ma let you finish but Karl Marx was the greatest philosopher of all time" #PMQspic.twitter.com/qBlsAeeFhk

— Alex Finnis (@AlexFinnis) September 16, 2015
There should be a question reserved for something totally left-field: 'Tim from Ruislip says why don't you see white dog poo anymore?' #PMQs

— Daily Mail Comments (@BestoftheMail) September 16, 2015
But they all actually ended up being a bit boring.
Okay the radio phone-in style #PMQs was cute the first time. It's a little tiresome now. By question 6 I will have lost the will to live.

— Marcus Walker (@WalkerMarcus) September 16, 2015
My plan is to bore David Cameron to death. #PMQs

— Jeremey Corbyn (@jeremeycorbyn) September 16, 2015
This is disgusting. WHERE IS THE BANTER? #PMQs

— WHAT'S A PORZINGIS? (@mcfg365) September 16, 2015
My grandmother's funeral was more lively than this. #PMQs

— Jenny (@jennywhojenny) September 16, 2015
Jezza was wearing a beautiful gold tie, but he was upstaged by someone opposite:
#PMQs Jezzers suit = uni lecturer circa 1993

— Kate Edge (@KateEdge) September 16, 2015
Incredible tie top left #PMQspic.twitter.com/vCpUeChxKw

— HannahJane Parkinson (@ladyhaja) September 16, 2015
We were about 10 minutes in before Jeremy's idea of a "new PMQs" with less shouting went completely down the pan:
#PMQs Dave is heckled and says " I thought this was the new Question Time." Hecklers go quiet. Dave wants to tackle "causes of poverty"

— MichaelWhite (@MichaelWhite) September 16, 2015
And the general consensus was that those crowdsourced questions weren't going too well...
Crowdsourced #PMQs is a clever idea from Corbyn but Cameron is dealing with it pretty well - not under much pressure

— Anoosh Chakelian (@Anoosh_C) September 16, 2015
Rather poor show from Corbyn...

September 16, 2015
New version of #PMQs fascinating but just giving PM platform to deliver his message. Corbyn acting more like TV interviewer than politician

— James Pearce (@Pearcesport) September 16, 2015
However, he did try his best to hold the PM to account on mental health issues within the NHS:
A lot of respect to Corbyn for bringing up mental health and refusing to let it go #PMQs

— Raziye Akkoc (@RazAkkoc) September 16, 2015
But Jeremy ran out of questions so the floor was handed to a Conservative MP with a joke question about a tiger.
From mental health to #tiger issues.. What a joke, trivialising serious issues on #PMQs

— Maddy (@dee_berry207) September 16, 2015
And the jokes were very, very cringeworthy:
WTF rhino named after Cameron's daughter and he makes a gag about it breeding well? WTAF? #PMQs

— Toshho (@Toshho) September 16, 2015
And a joke about a trouser press from the young Tory in charge of Corby.
Tom Purseglove: "Corby, not Corbyn' #AccidentalPartridge at #PMQs

— Ryan Barrell (@RyanBarrell) September 16, 2015
The MP for Corby sounds like a right laugh #PMQs

— Chris Hurley (@OneDorset) September 16, 2015
that Corby joke by that teenage Tory must be the worst thing I have ever heard. #PMQs

— park bench mutations (@njjackson89) September 16, 2015
Tom Purseglove looks like he's doing work experience. #PMQs

— Andrew Mole (@AndrewJMole) September 16, 2015
Still pissed off about that Corby/Corbyn joke. Think it has wrecked my day. #pmqs

— Sathnam Sanghera (@Sathnam) September 16, 2015
Aaaaand it took almost half an hour for someone to mention the national anthem.
Every Tory question at #PMQs today: "Does the prime minister agree that Jeremy Corbyn is a bit of a knob?"

— Ryan Barrell (@RyanBarrell) September 16, 2015
But all in all, it was a fairly tame and respectful session.
Corbyn shakes hand of Speaker Bercow as he leaves his PMQs debut.

— Paul Waugh (@paulwaugh) September 16, 2015
SEE ALSO: