Here are some nutritious but indulgent recipes to leave out for Santa (he'd far rather munch on these than mince pies, we guarantee).
Raw Blueberry and Cashew Coconut Bars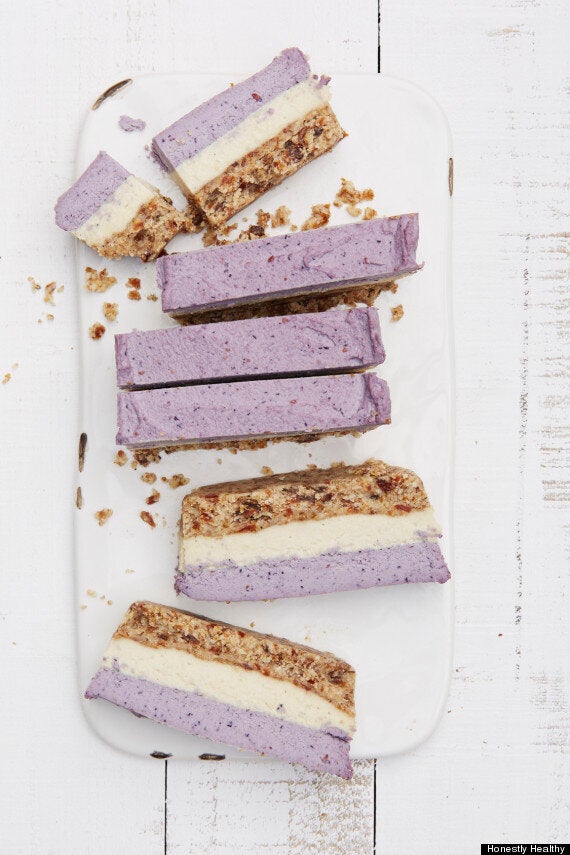 These snack bars are a great alternative to grabbing handfuls of leftover Mllk Tray to graze on in front of a good Christmas film. But unlike your Christmas choc, it's essential that you keep them in the fridge so that the coconut oil they're made with keeps its shape and texture.
Overindulged already? Coconut oil aids your digestion and metabolism and also contains fatty acids which keep your skin glowing and your hair and nails strong.
5 tbsp melted coconut oil
1) Line a 4 x 10 inch rectangular baking tin with baking paper.
2) To make the base put the nuts into a food processor and blend until a fine consistency. Then add the dates and melted coconut oil and blend again. When you squeeze the mixture it will form a ball and stick together. This shows it's the right consistency.
3) Push the base into the prepared tin and put into the fridge.
4) Make the white layer by soaking the cashew nuts in a bowl – cover with just enough water so it reaches the top of the cashew nuts and leave for 1 hour.
5) Pour the cashews and the soaked water into a high-speed blender with the rest of the ingredients for the white layer. Blend until silky smooth.
6) Take the tin out of the fridge and pour the white layer on top of the base. Put into the freezer for 1 hour.
7) Make the purple layer by soaking the cashews again by covering with just enough water. Put all ingredients into a high speed blender and blend until silky smooth again.
8) Take the tin out of the freezer and pour the purple layer over the white. Put back into the freezer for about 2-3 hours until solid.
9) Take out and slice and keep in the fridge until ready to serve.
Lime & Coconut Chickpea Curry with Coconut Flatbreads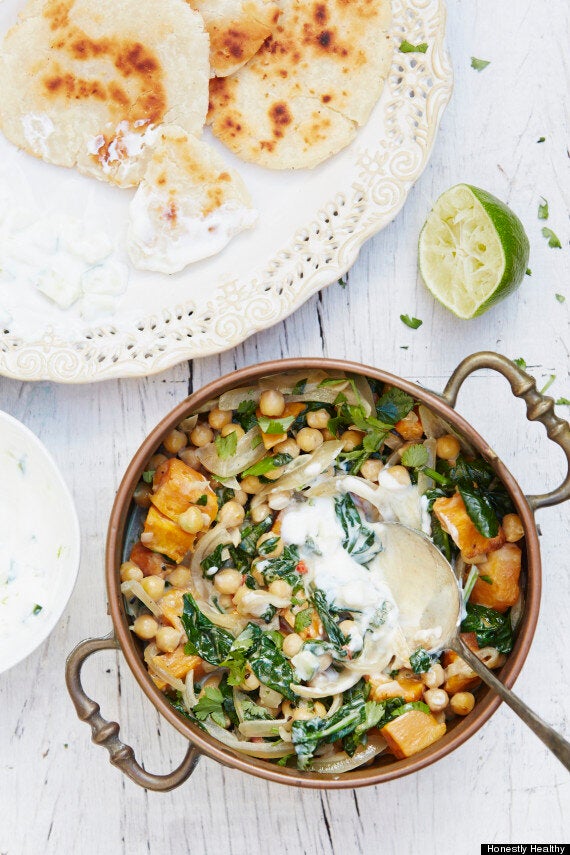 This curry is ideal for cooking in bulk and then freezing if you want a lazy but nutritious meal to fall back on when you're busy with last minute Christmas shopping!
1 large or 2 small cloves garlic, finely chopped
2tsp ginger, finely chopped
¼tsp each of ground cardamom, ginger, cumin & turmeric
175ml vegetable stock made with 1tsp Bouillon powder
½ a red chilli finely chopped (less or more to taste)
250g cooked chickpeas (400g tin, drained)
150g fresh spinach leaves (3 large handfuls)
30g chopped fresh coriander
1 cup gluten free plain flour
Pre-heat the oven to 175°C
1) Peel and chop the sweet potato into 2cm cubes. Smother them in ½tsp coconut oil and bake in the oven for 20 minutes or until soft.
2) Melt the other ½tsp of coconut oil in a pan and sauté the onions for 2-3 minutes until soft. Add in the chilli, ginger, garlic, mustard seeds and garlic and continue to sauté on a gentle heat for a further 2-3 minutes adding a splash of water if the pan gets too hot and the spices start to stick.
3) Add the coconut milk, lime zest, stock and finely chopped chilli to the pan and simmer on a medium heat until the sauce begins to thicken. Next add your chickpeas and squash and spinach and combine until the spinach wilts.
4) Once heated through, stir in your chopped coriander and lime juice and serve.
1) Combine all of the ingredients to make a dough and leave to rest for an hour.
Split the dough into 5 balls and shape into a round with the heel of your hand so that it is as thin as possible but does not crack. Cover your hands in oil if this makes it easier.
2) Melt some coconut oil in a pan over a medium heat and bake the breads in the pan until golden brown on either side. This should take around 3 minutes on each side. Serve straight from the pan with the curry.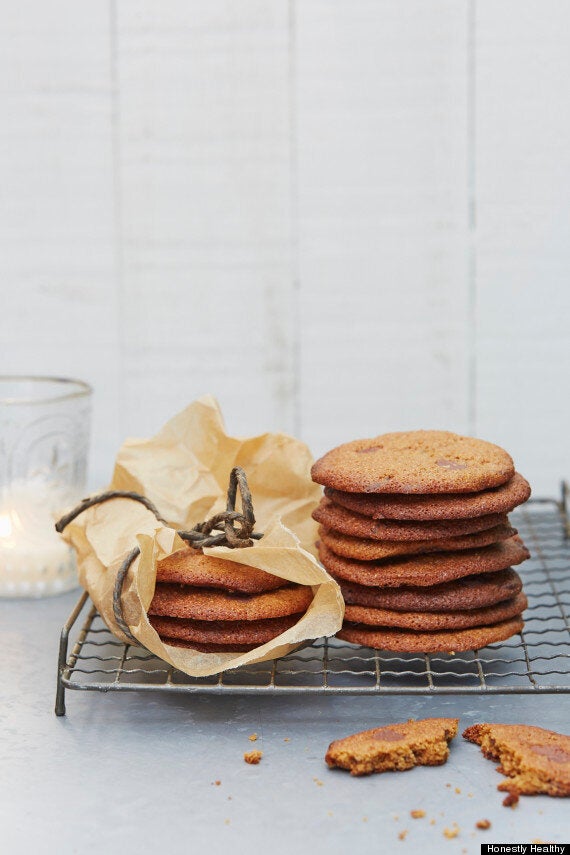 Choc chip cookies? Healthy? Really? Believe it or not, these chocolately treats contain no cows dairy products, refined sugar or gluten whatsoever!
75g vegan butter or coconut oil (room temperature)
100g vegan sugar free choc chips or cacao nibs
1) Pre-heat oven to 170°C
2) Beat together the butter and coconut palm sugar and then add the egg and vanilla extract until completely combined.
3) In a separate bowl weigh out the flours, bicarbonate of soda and salt and mix together.
4) Slowly pour the flours into the wet ingredients and mix together. Add the choc chips until combined.
5) Line a baking tray and scoop 1 tbsp of mixture onto the tray making sure that there is 3 around inches between each scoop of batter otherwise the cookies will join together when cooking.
6) Put into the oven for 12 minutes until starting to brown around the edges.
7) Take out the oven and leave to cool on a rack.
LG recently partnered with the fresh food advocate, Honestly Healthy, to highlight the unique and innovative technologies in the brand's latest refrigeration range.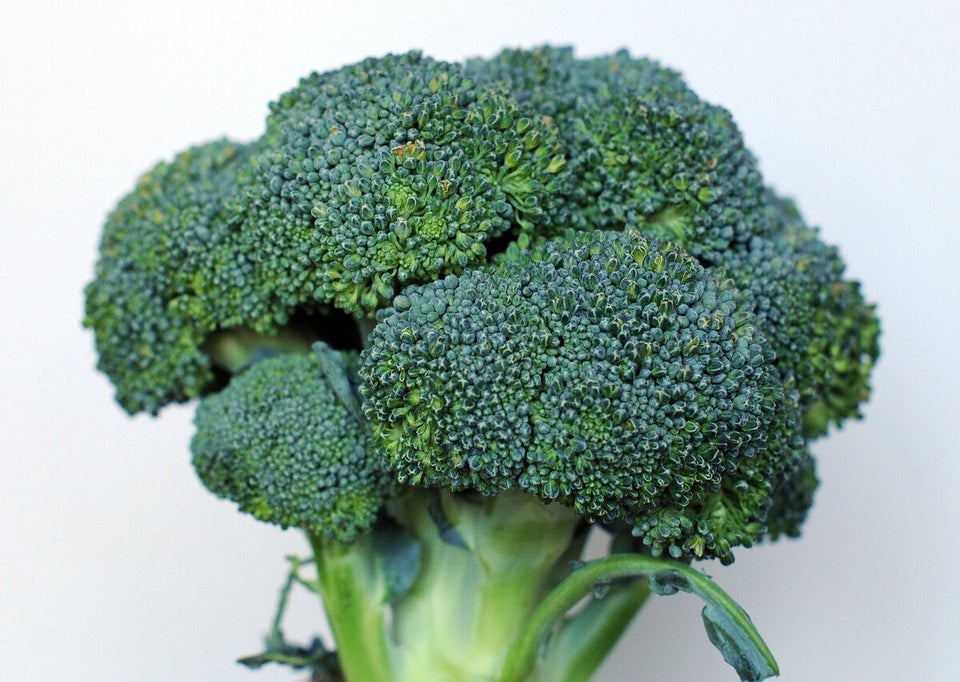 Foods You Can Eat On The Alkaline Diet