NME magazine have revealed the cover star for their first ever free edition, and it's none other than global megastar Rihanna.
In a move which has frustrated some music fans, the mag have opted to place RiRi on the cover of the landmark issue, and in the accompanying interview, she dishes the dirt on everything from working with Kanye West on her eighth album, to the 'Bitch Better Have My Money' video.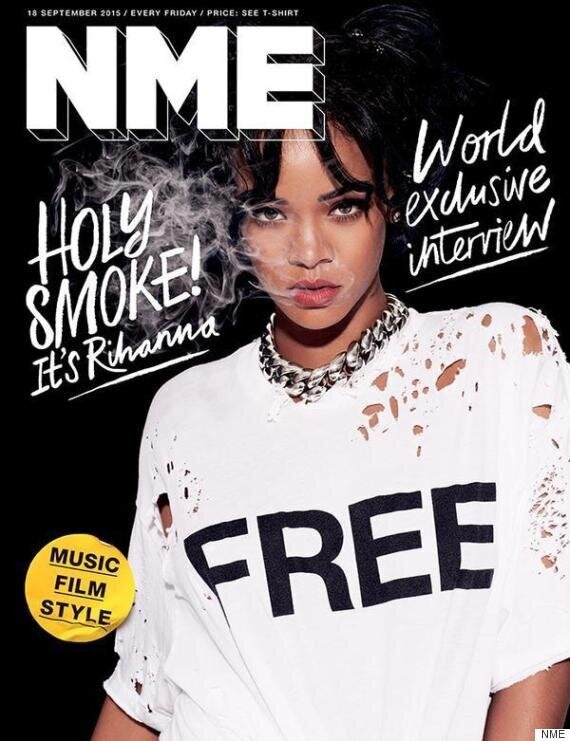 At present, music fans are eagerly awaiting RiRi's eighth album, and we have to say we're a little sad to find out that it won't be released any time soon.
When asked about the record by NME, Rihanna "chortles": "It's not done! To me it's never done until it's done. Until the final moment.
"I have so many songs I love – and they're so different – that it's hard to actually put them all on the same album.
"No matter what I post online, within three comments there's somebody saying, 'Where is R8?' But it makes me excited, because I can't wait to give them something great."
The 'FourFiveSeconds' singer has been working with Kanye West on her album, and during her chat with NME, Rihanna reveals that she won't finish #R8 without him, stating: "We just have to wait to get back in the studio together. His schedule and mine are totally opposite right now, but I think this month we'll be back in the studio.
"It's easy to make an album full of great songs. But I want people to go for the ride. The songs have to make sense together."
Story continues below the (NSFW) video...
"I wanted people to feel like they'd got more than they'd expected. But not in a shocking way – in the sense of 'wow, this is a real mini-movie'. You know? I wanted to go deeper," she explains, before slightly cryptically continuing: "Mostly what I wanted was for people to get it.
"I was very happy with the reaction. Very happy. Well I mean now we're reaching. I didn't think about anything that had to do with that. Wow. And at the end of the day the women won. The bitch was the man. So I'm confused. Those are the people that didn't get it.
"I'm not worried about those people. This was not a woman empowerment video. I was making a piece of art."
However, the decision to put Rihanna on the cover of the mag hasn't delighted everyone, namely indie music fans who think the publication - whose initials stand for 'New Musical Express' - should have opted for an up-and-coming act:
The first free issue of NME will available from various stockists across the UK on Friday 18 September. See a map of the distribution locations here.
To read Rihanna's full interview, pick up your free copy of NME magazine this Friday.