NEW YORK -- A hugely popular Christian conservative, currently polling second in the race to be the Republican presidential candidate, said on Sunday he "absolutely would not agree" with a Muslim entering the White House.
Ben Carson, a former neuroscientist who boasts fanatical support amongst American evangelicals, told NBC's "Meet The Press" Islam is incompatible with the country's constitution.
The softly spoken doctor, who has a penchant for masking extremist sentiment with a gentle delivery, was reacting to a question about a Donald Trump supporter, who at a rally on Thursday decried President Obama as a "Muslim" and called for ethnic cleansing.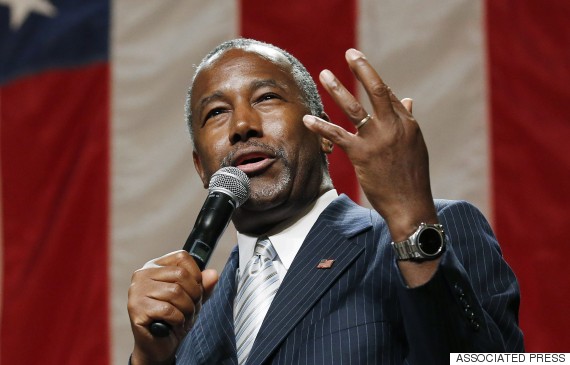 Republican presidential candidate Ben Carson delivers a speech to supporters Tuesday, Aug. 18, 2015, in Phoenix
When asked if the president's faith mattered, Carson said it would depend on what the faith was. "If it's inconsistent with the values and principles of America, then of course it should matter," he said. "If it fits within the realm of America and is consistent with the Constitution, I have no problem."
"I would not advocate that we put a Muslim in charge of this nation," he added. "I absolutely would not agree with that."
Carson's record includes stating that prison sex proves homosexuality is a choice, demanding the US military not be constrained by rules, and that the best way to understand the administration of President Obama is to read Mein Kampf.
Trump was rounded upon earlier this week for not correcting the questioner at his rally, who peddled the birther line that Obama was not born in the US. Despite the outrage, Trump insinuated on Sunday that America had already had its first Muslim president.
When asked on the same show if how he'd feel should a Muslim president be elected, Trump said: "Would I be comfortable? I don't know if we have to address it right now... But I think it is certainly something that could happen."
When asked again, the frontrunner said: "I mean, some people have said it already happened, frankly… But of course you wouldn't agree with that."
In reaction to Carson's comments, Ibrahim Hooper, spokesman for the Council on American-Islamic Relations, told the Washington Examiner: "I think his remarks should be repudiated by everyone on the political spectrum and that he should withdraw."
SEE ALSO: