An interactive map revealing London's traffic accident hot spots over the last decade has been launched for the first time.
The map, created by Transport for London (Tfl), allows users to search accidents by location, severity and by what type of road user was involved. It covers all accidents recorded by police between 2005 and 2014.
The map - at www.collisionmap.london - reveals whether the crashes were fatal, serious or slight. Factual details about the accident are displayed when users click on crash locations.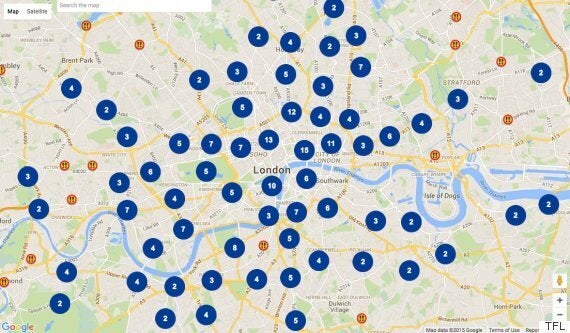 Transport for London has produced an interactive map which highlights accident hot spots by location and by the type of road user involved
It's also possible to search for adult or child road collision victims.
Transport for London hopes the map will make road users more aware of junctions with "high collision histories".
Isabel Dedring, Deputy Mayor for Transport, told the Evening Standard that safety continues to improve on London's roads "but we are no complacent".
She said: "It is a top priority and that's why the Mayor set a new target to bring down the number of people killed or seriously injured even further. This map is part and parcel of our drive to improve road safety awareness and complements ongoing work to overhaul and improve London's key roads and junctions."
Leon Daniels, Managing Director of Surface Transport at TfL, told the newspaper: "This mapping tool will enable us to work with our partners and local communities to make significant improvements in road safety. Alongside major modernisation work at junctions, effective enforcement by the Police and action to make lorries safer, this is one of many measures we are taking to further reduce the number of people killed or seriously injured on our roads."
Related