A Florida gun-maker has created an assault rifle engraved with Bible verse, which will apparently prevent "Muslim terrorists" from using it.
Spike's Tactical AR-15 Crusader Rifle features biblical scripture laser-etched on the side of each model.
"This ensures that no Muslim terrorist will ever pick up this weapon to use it to bring harm against another person," Ben 'Mookie' Thomas, a former Navy Seal and spokesman for the store, said in a video posted on YouTube.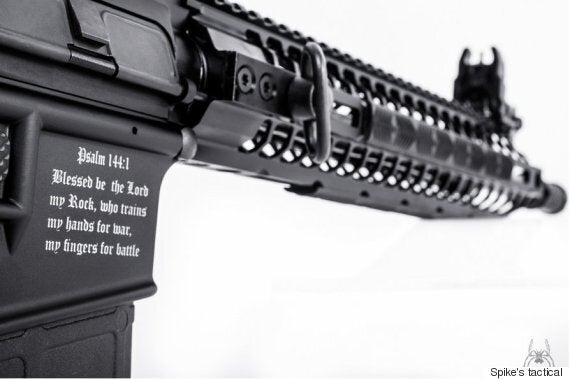 The weapon retails at nearly $1,400
He added: "That's actually my favourite part of the rifle."
The semiautomatic weapon features an emblem of a cross inside a shield similar to those used by the Knights Templar during the Crusades on one side.
On the other, this line from Psalm 144:1:
"Blessed be the Lord my Rock, who trains my hands for war, my fingers for battle."
Speaking to the Orlando Sentinel, Thomas revealed the inspiration for the weapon, recalling: "Off the cuff I said I'd like to have a gun that if a Muslim terrorist picked it up a bolt of lightning would hit and knock him dead."
However, the Florida chapter of the Council for Islamic Relations points out that of the more than 250 mass killings in the United States this year, only one involved a self-proclaimed Muslim.
In a statement quoted by WTSP, a spokesman said: "Sadly this manufacturer's fancy new gun won't do anything to stop the real threat in America: the escalating problem of gun violence.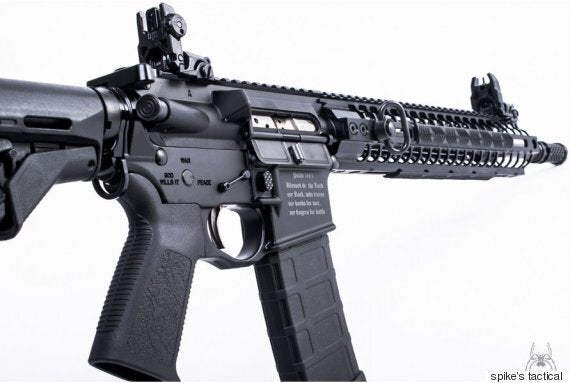 The semiautomatic also comes with three settings: Peace, War and God Wills It
"This is just another shameful marketing ploy intended to profit from the promotion of hatred, division and violence."
The business owner made his remarks in response to the Chattanooga shootings in which alleged gunman Muhammad Youseff Abdulazeez killed four Marines and wounded two other service members and a police officer.
In a Facebook post he wrote: "I have a moral and legal responsibility to ensure the safety of all patriots in my community, and so effective immediately, I'm declaring Florida Gun Supply as a Muslim-free zone.
"I will not arm and train those who wish to do harm to my fellow patriots."
In response, the Council on American-Islamic Relations (CAIR) launched an appeal to the US Department of Justice claiming the statement "violates federal law". Eric Waxler, a spokesperson for the group said: "I invite Andy, the gun shop owner, to break bread with us, to get to know us as his fellow Americans."