Prince William has spoken out against homophobia in what is believed to be a first for the royal, while taking part in an anti-bullying session with schoolchildren.
Discussing LGBT bullying and cyber-bullying with pupils at the Hammersmith Academy, the second-in-line to the throne talked about the best ways to deal with a homophobic bully.
Agreeing with one student who said he would speak up, the Duke of Cambridge said: "As the young man said, I would try to confront."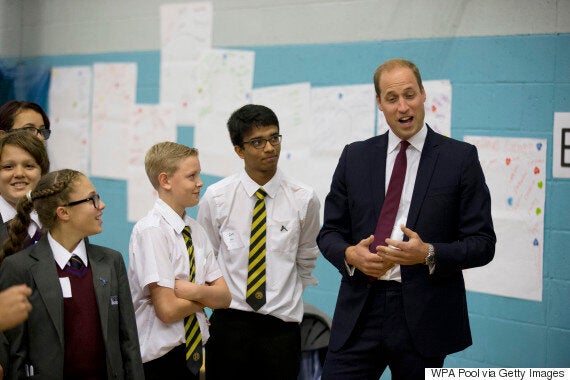 Prince William took part in an anti-bullying session at Hammersmith Academy
Discussing the idea of a support network, William named his wife, brother, father, grandmother and grandfather as the people he would turn to if he was bullied. As an afterthought he added in his trusty pet, Lupo the dog.
He also heard from young people who had suffered bullying, including one 17-year-old who said that an online troll urged him to kill himself when he came out, according to the Daily Mail.
According to Pink News, a Kensington Palace spokesperson commented, saying: "He hopes it will help de-stigmatise bullying issues in schools.
"He particularly likes the idea of a peer-led support network to prevent any child or young person suffering in silence."
The event was part of the Diana Award, named in honour of the Prince's mother. More than 16,000 anti-bullying ambassadors have already been trained by the scheme in 3,000 schools across the UK.
The Royals rarely mention LGBT rights and none of them have ever spoken out in support of same-sex marriage, and so the move was hailed as a first by both Pink News and the Gay Times.
However, the Duke's brother hit the headlines when he defended an RAF colleague who had been threatened by other soldiers.
In Out In The Army, Wharton said: "I couldn't stop the tears from welling up in my eyes. He said, 'Right I'm going to sort this shit out once and for all.'
"He climbed out of the tank and I poked my head out of the turret a few moments later to see him having a go.
"I will always be grateful to Harry and I will never forget what happened. Until he went over and dealt with everything I was on track for a battering."
Related