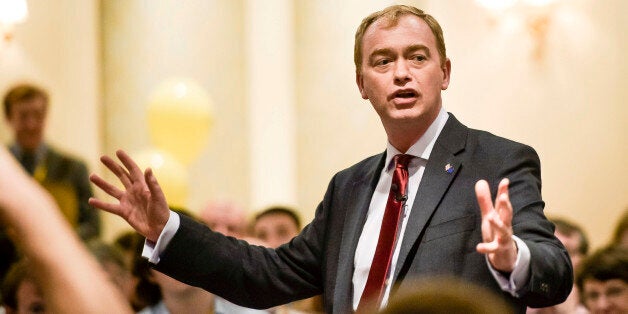 Tim Farron has used his first party conference leader's speech since taking over from Nick Clegg to defend the Liberal Democrats' time in power.
The Lib Dem leader also attacked David Cameron's "pitiful" response to the refugee crisis and Jeremy Corbyn's "fantasy economics".
Farron is seen as to the left of Clegg and famously gave the party just "two out of ten" when asked to rate its effectiveness in coalition with the Conservatives.
However today he told Lib Dem activists today that he would not disown the former leader. "There are those that would like me to take this opportunity to distance myself from the past five years, to say it was all some dreadful mistake, to say: 'I disagree with Nick.' But I don't. So I won't," he said.
Farron has said the party should aim to get back into government as soon as 2020. He said today: "There is nothing grubby or unprincipled about wanting to win. Nothing noble about defeat – losing sucks, losing robs you of your chance to make people's lives better. What's the point in being right if you never get to put your policies into action?
"So I am proud of what we did in government and I am determined that we will return to government.
"We paid a heavy price for our time in government, but we did right by our country. We showed that we are serious about taking power, serious about how we exercise power, and serious about sharing power in the interests of the country and the people. So we will learn from the last five years, but we will not disown the last five years. Those five years where Liberal Democrats made a difference, made Britain more successful: five years where we learnt that power is tough… but worth it."
He added: "If others wish to abandon serious politics, serious economics, that's their lookout. But you can be certain that the Liberal Democrats will occupy every inch of that progressive liberal space because you cannot change people's lives from the glory of self-indulgent opposition. Instead, I want us to be serious about power."
The election of Jeremy Corbyn as Labour leader has denied the Lib Dems space on the political left. Instead, Farron encouraged centrist Labour supporters to switch to his party rather than stick with the "fantasy economics that will cause greater poverty and austerity".
Farron said it was "nonsense" to criticise Corbyn for not singing the national anthem. However he said the Labour leader was a "threat to Britain" because he was ambivalent about Britain's membership of the EU.
He also attacked David Cameron for failing to accept more Syrian refugees. He said Britain should "take our share" of the people fleeing to Europe from the civil war. "If we don't act now, many more will die," he said.
"What we've had from David Cameron is a careful calibration of what it will take to manage that story, the minimum effort for the maximum headlines. And a policy which will not directly help a single one of the hundreds of thousands currently on the move across Europe," h said.
Farron added: "It's pitiful and embarrassing and makes me so angry."