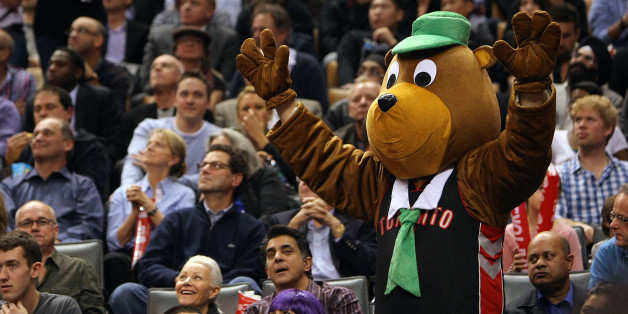 Dave Sandford via Getty Images
One news agency journalist was left feeling abashed, after committing a large error when covering the death of one of America's greatest baseball legends.
The Associated Press, which files copy to thousands of reporters across the globe, inadvertently misspelled the name of Yogi Berra, a record-breaking 10-times World Series champion who passed away early on Wednesday.
They referred to him instead as 'Yogi Bear', the cartoon character whom Berra was the inspiration behind.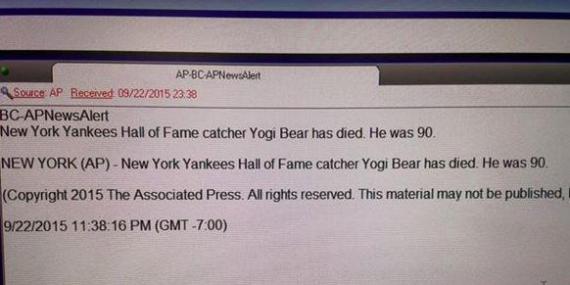 The offending original alert
AP corrected their post in under a minute, but many editors neglected to spot the typo, and instead went about telling their readers that a fictional, animated character had died instead of Berra.
The Washington Post, Fark.com and the Las Vegas Sun all fell prey to the mistake.
.@AP Confuses Yogi Berra with Cartoon Character Yogi Bear in Obituary

http://t.co/SL1ArX7Ufs pic.twitter.com/eEsQxdwrHB

— StuffJournalistsLike (@JournalistsLike) September 23, 2015
AP accidentally reported yesterday that "Yogi Bear" had died - http://t.co/AbopQHhjcl pic.twitter.com/qlzvJvN51e

— Matthew Keys (@MatthewKeysLive) September 23, 2015
AP Bulletin: Yogi Bear just died [Facepalm] http://t.co/JW5mRx5xo1 @AP Deader than the average bear? @fark

— DJ Gestampft (@DJ_Gestampft) September 23, 2015
AP declares Yogi Bear has died. I guess Boo-Boo couldn't be reached for comment. pic.twitter.com/nLRcIDNF1M

— Mark Collette (@chronMC) September 23, 2015
And it seems even some boradcasters were caught out by the inaccuracy, one social media user reporting that his daughter had heard newsreaders say 'Yogi Bear' had died.
My daughter into my room & said Yogi Bear died. She heard it on tv.

— Tommy Dreamer (@THETOMMYDREAMER) September 23, 2015
Safe to say, the original post was roundly mocked.
It is with great sadness that I inform you that Yogi Bear passed away last night. He is survived by Boo-Boo Bear and 11,000 picnic baskets.

— Mel Gabor (@melgabored) September 23, 2015
Yogi Bear died? Boo Boo must be devastated!

— Verifried Drunk™®© (@VerifiedDrunk) September 23, 2015
Rest in peace, Yogi Bear. Some say you were "smarter than the average bear"; really, you were smarter than all of us. pic.twitter.com/tZvC2gJbEQ

— Parker $€l£ (@parkerself) September 23, 2015
AP boo boo: #YogiBear is not really dead

http://t.co/3acl8B5vDH #YogiBerra pic.twitter.com/omfzpwNPbA

— KHOU 11 News Houston (@KHOU) September 23, 2015
RIP Yogi Bear. Apparently, Ranger Smith finally snapped

— donni (@donni) September 23, 2015
READ MORE: