A woman from Chicago has written of her surprise and admiration for a McDonald's employee pictured helping an elderly customer eat his meal.
Destiny Carreno visited a McDonald's at the city's Union Station after finishing work -- and spotted a sight that moved her to tears.
A young employee had responded to the elderly man's request for help by rolling up his sleeves, washing his hands, and sitting down to help him enjoy his food.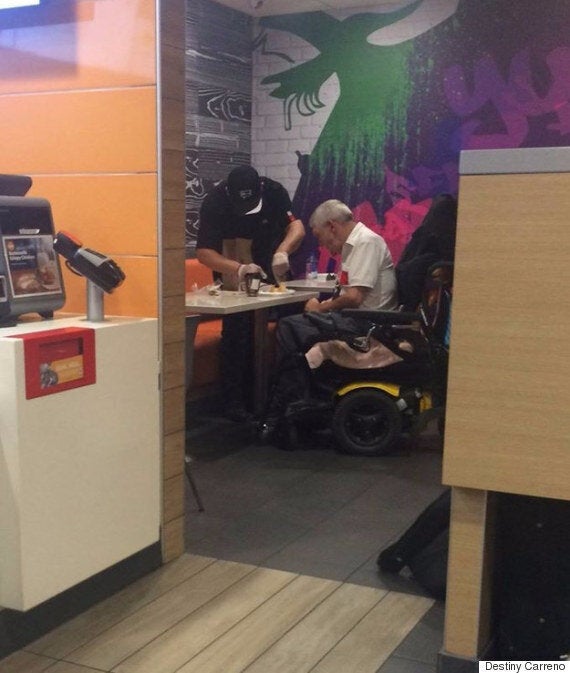 Destiny Carreno posted a snap to Facebook which promptly went viral
Destiny posted a picture to Facebook showing the unnamed staff member helping the customer -- promptly capturing hearts the world over.
It has since been shared over 250,000 times.
Seeing this today brought tears to my eyes! Compassion has NOT gone out of style.

Today I made a quick stop at McDonald's after work. As I waited in line to order, an elderly handicapped gentleman wheeled himself over to the cashier in front of me. From what I perceived, the gentleman may have had a case of quadriplegia, the same medical condition my uncle has.

The man politely tried to ask the cashier something and it took him a few tries before either of us could understand he was saying "Help me please". Neither of us knew what help he needed, and the cashier suggested a few things before he figured out the gentleman needed help cutting and eating his meal.

To be honest, I thought the cashier wasn't going to help, especially during rush hour in downtown Chicago, but to my shock, he shut down his register and disappeared from view....

Not to get away from helping him, but to wash his hands and put gloves on! I had to stick around and see how this would play out, especially since it hit me so close to home with my own uncle.

The cashier came out from the kitchen, sat down, and began cutting the man's meal and helped him eat.

At that point, the tears started to gather in my eyes. My heart was so appreciative for what he did. I couldn't contain my emotions in the crowded restaurant.

This employee, who put everything on hold for this man, went above and beyond his responsibilties to help this handicapped customer out. That was the kindest and most humble thing I had ever seen.
With all the criticism of McDonald's and the 'McJob' out there - Destiny's post has taken a lot of people by surprise.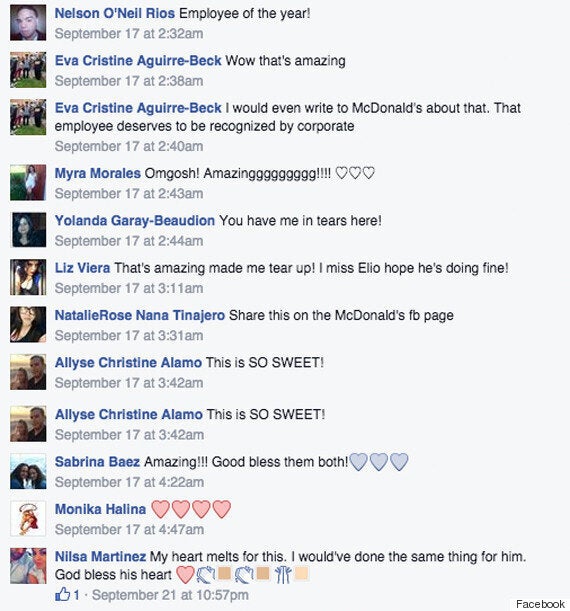 Related