Ioane Teitiota had argued he and his three New Zealand-born children will not be safe on the remote Pacific atoll, which is threatened by rising sea levels.
Teitiota has been fighting deportation since 2011 when he overstayed his visa. Now, after a four-year battle, the Supreme Court ruled Teitiota and his family do not qualify as refugees.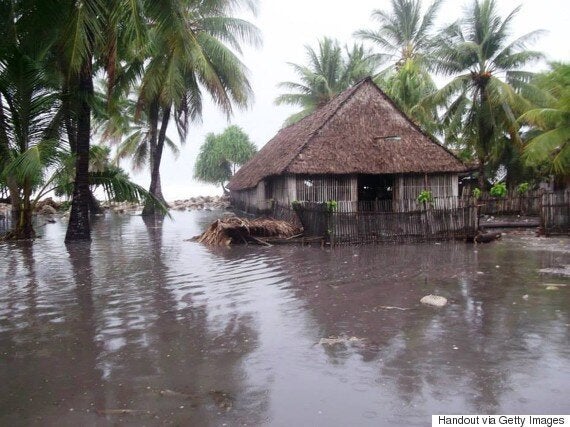 Flood waters surround a house on the island of Kiribati during Cyclone Pam in March
The court's decision said: "In relation to the Refugee Convention, while Kiribati undoubtedly faces challenges, Mr Teitiota does not, if returned, face 'serious harm' and there is no evidence that the Government of Kiribati is failing to take steps to protect its citizens from the effects of environmental degradation to the extend that it can," Stuff.co.nz reports.
According to AFP, Kiribati suffers from a range of environmental problems linked to climate change, including storm surges, flooding and water contamination.
The island's government has bought 2,000 hectares of land in Fiji to act as a farm for Kiribati if salt-water pollution means the former British colony can no longer produce crops.
New Zealand Prime Minister John Key described Teitiota as an over-stayer and not a refugee. He told the New Zealand Herald: "I am sure people feel for the guy – they have got their family here, all these kinds of things. But unfortunately he is not unique in that, and we have to be in the most part consistent."
Teitiota's wife Angua Erika told Radio New Zealand: "They said we are over-stayers but we are not. We are trying to find a better life for the kids."
Labour MP Phil Twyford told Morning Report that while he did not consider the family refugees, he felt it would be compassionate to allow them to stay.
He said: "When the tide is high, the water literally laps around the ankles in people's houses. The water supply is contaminated; the gardens are salinated so you can't grow things.
Popular in the Community