A British exchange student has died on a day out with friends in New Zealand after their kayaks were swamped after strong gusts of wind.
Londoner James Murphy, 20, who was studying at Monash University in Australia, had gone kayaking with friends during the half-term break when tragedy struck on Friday.
The third year philosophy student died alongside New York college student Daniel Hollnsteiner, 21. They were with nine Monash University friends who all got into trouble while kayaking on Lake Tekapo.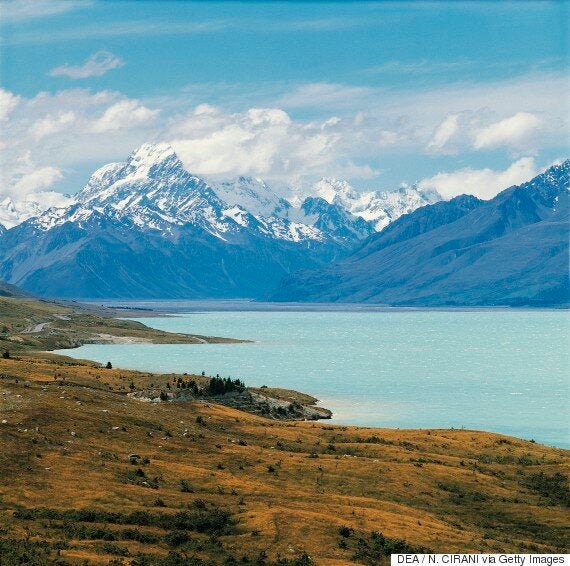 Lake Tekapo, where the accident happened, with Mount Cook in the background
Police area commander Dave Gaskin told Television New Zealand it was "very, very lucky" that all 11 students didn't die after they were struck by strong winds that swamped their vessels and thrust them into the cold lake water.
Mr Murphy was on an exchange from Warwick University, whose vice-chancellor Professor Sir Nigel Thrift said: "Our thoughts are with the family and friends of all the students involved in this accident. We are immensely grateful for the support and assistance being offered to the students and their families by our colleagues in Monash University."
A Monash University Facebook message said: " Our University community is deeply saddened by the news of the tragic deaths of two of our students, Daniel Thomas Hollnsteiner and James Robert Murphy, in a kayaking accident on the South Island of New Zealand.
"Monash has sent a senior member of our management team to New Zealand to support other students there at this difficult time. Our deepest sympathies are extended to the families of the students, their colleagues, and their friends during this tragic time. Our thoughts are also with the remaining students."
A New Zealand police spokesman said the group, who had hired kayaks for the trip, "ran into difficulty after venturing out on the lake and being swamped after an easterly wind picked up to an estimated 20 knots."
Emergency teams from Lake Tekapo, voluntary firemen and the McKenzie Lake Coast Guard, assisted by a helicopter, went to the scene where they recovered the two bodies.
The spokesman said: "All survivors were suffering from hypothermia and a small number required hospitalisation at Timaru Hospital.
"An investigation will take place, looking at the reasons this tragedy occurred."
A Foreign Office spokesman said: "We can confirm the death of a British national in New Zealand on September 25. We are providing support to the family and are in contact with the New Zealand authorities."
Related