NEW YORK -- A loud bang of the gavel at the United Nations on Friday marked the start of a hugely ambitious 15-year-plan to improve the planet on a sweeping scale. The 17 global goals, that include ending extreme poverty, reducing inequality and mitigating the effects of climate change, follow the Millennial Development Goals instituted by world leaders at the UN in 2000.
Only one of the Millennium Development Goals was met -- halving the number of people in extreme poverty (mainly due to the economic success of China) -- yet there has been tangible achievements within the 2000 targets, from increasing the number of children attending school across the developing world, to halving child mortality for under-5s, to reducing malaria deaths by two-thirds.
As such, the new agenda has already won broad support, with Pope Francis, in New York last week, calling the plan "an important sign of hope." Critics suggest the plan is too extensive, and even too ambitious. Still, having reached an accord across 193 UN members, the task ahead is financing the goals, expected to cost up to $5 trillion every year until 2030.
This will require pulling in investment for the private sector, Justine Greening tells HuffPost hours after the agreement was adopted. Speaking at the UK's mission to the UN overlooking the East River in Manhattan, the British Secretary of State for International Development was ebullient having seen three years of toil on the new agenda come to fruition.
The Conservative minister had also enjoyed a "ringside seat" to watch the pope's UN address that morning, a leader Greening says must be part of the debate on "moving the world forward."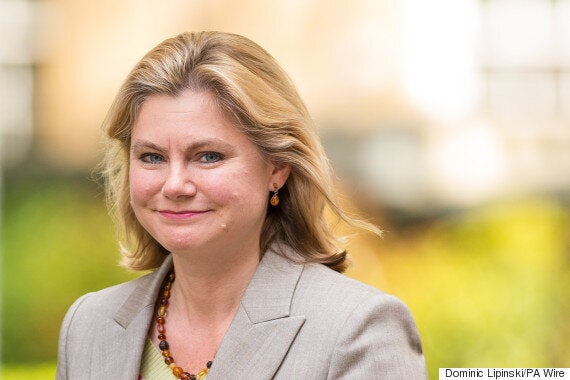 International Development Secretary Justine Greening arrives in Downing Street, London, May 2015
The global goals, called a "to-do list for people and planet" by UN Secretary-General Ban Ki-moon, boasts 169 specific targets for sustainable development, designed to counter growing inequality in a world threatened by a booming population, dwindling resources and rising temperatures.
One of the themes running through the targets is the empowerment of women, whether that's providing access to education, improving sexual and reproductive rights, or tackling the retrograde cultural practices of female genital mutilation and child marriage.
The Millennium Development Goals were created by then-Secretary-General Kofi Annan and his office, however the new targets were a product of intense negotiation by all the member states, with Britain at the forefront of pushing for specifics on gender equality.
It's an area that Greening, a longtime campaigner for women's rights, was "determined to see properly addressed."
"In my experience, if you're not winning the battle taking women's and girl's rights forward, you're losing it because there are people and countries for whom it has already gone too far and who would like to turn the clock back."
On the culturally sensitive matter of women's rights, the minister admitted there was resistance from some UN members, but those advocating for change prevailed with gender equality adopted as a standalone target, given the same weight as poverty, access to clean water and economic growth. "The UK and I pushed very heavily for that," she says.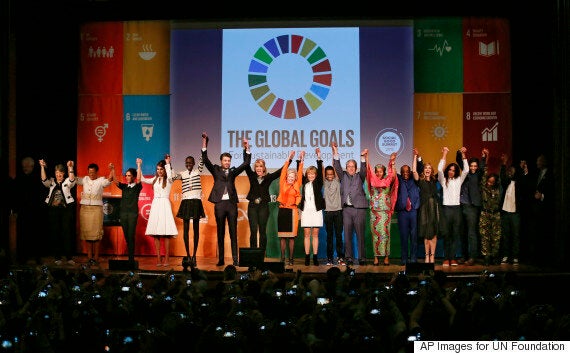 Speakers at the opening ceremony celebrate the adoption of the new Sustainable Development Goals
One of the targets is to "eliminate all harmful practices, such as child, early and forced marriage and female genital mutilation." One of the challenges of tackling an issue such as FGM is that each programme needs to be tailored to not only the country but also to the community in which you want to effect change.
Greening cites Ethiopia, a nation so ethnically diverse that there are 80 different approaches to address the issue of genital mutilation in young girls. Sometimes the problem is cultural, sometimes religious, but sometimes economic, she notes. "Families find it financially important to get a dowry for their daughters being married off; having FGM is part of that."
Britain, along with its international partners, pushes for countries such as Ethiopia to change its laws, while working with local governments and grassroots communities to reduce the practice. It's a complex issue, which is why a lot of people "stood back," says the minister. Yet there is also a broader push to get young girls into school, which can reduce help rates of FGM and child marriage, while an educated female workforce would add billions to the Ethiopian economy. "Women have to play a full role in the economy if countries are to develop effectively," she says.
A further key goal is to mitigate the effects of climate change, helping those developing countries that will be most affected by rising global temperatures. Whereas sweeping emission agreements make headlines, Greening's department works on the ground, helping subsistence farmers grow resilient food with greater nutrition in a sustainable way.
Last week, Republican presidential candidate Donald Trump gave an interview to CNN dismissing climate change as nothing more than "weather." In the US, the business tycoon is not an outlier in that view. Yet Greening offers sanguinity, noting a "mainstreaming" of the issue in the three years since she started her work at the department.
"I think the Obama administration is sending out the right messages to give us real hope, [China's] President Xi too, that we can get the global agreement to limit emissions," she says.
In December, UN members will attend the COP21 climate change conference in Paris with the aim of agreeing a framework that will keep global warming below 2°C. Regardless of the outcome, Greening notes "it's the developing countries that still need to grow and still need private sector development," though she admits being "optimistic" about the meeting in France.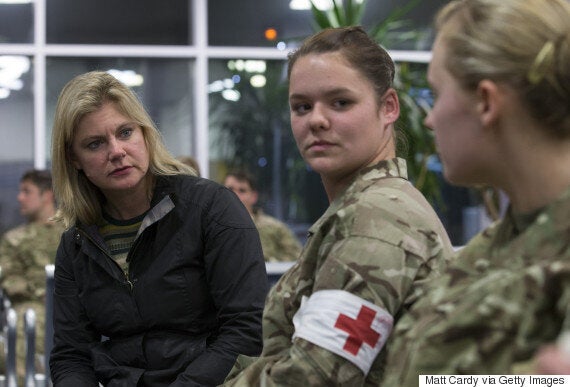 Greening chats with British Army medics board as they wait to board an aircraft as they depart for Sierra Leone at RAF Brize Norton, England, October 21, 2014
The "shock" of the image was equally felt within Westminster, says Greening, who points to DfID's works responding to the conflict. "In the 21st century, the world is a much smaller place and if we don't tackle these problems at source, we shouldn't be surprised when they literally start arriving on our doorstep," she reflects.
"It's clear to me that what we are doing with international development investment… is helping to keep our own country secure," she says, citing the work her department did reacting to the Ebola outbreak in Sierra Leone. "Most people were running away from the Ebola crisis, Britain ran towards it and in doing so helped a country cope with a disease that could have taken over not just west Africa but spread far more broadly."
Greening also points to the long-term benefits of Britain's commitment to spend 0.7 percent of GDP on international development, highlighting the new markets open to British companies in 15 years thanks to the investment. "It's not just about managing the risk our country faces, it's about getting those opportunities from a more developed world in the future -- it's a win-win."