From her landmark People magazine cover, to starring in H&M's latest campaign, the size 26 model is putting her stamp on the fashion industry - with no plans to stop anytime soon.
At 5'4" tall and with a softly-spoken Mississippi accent, in person she's petite - almost diminutive. Until you spot the sequins... and the gaggle of excited fans queuing up for her meet and greet session.
"I wish things like this were around when I was younger," Holliday tells me. "I was really self conscious as a kid, I felt terrible - like a prisoner in my own body."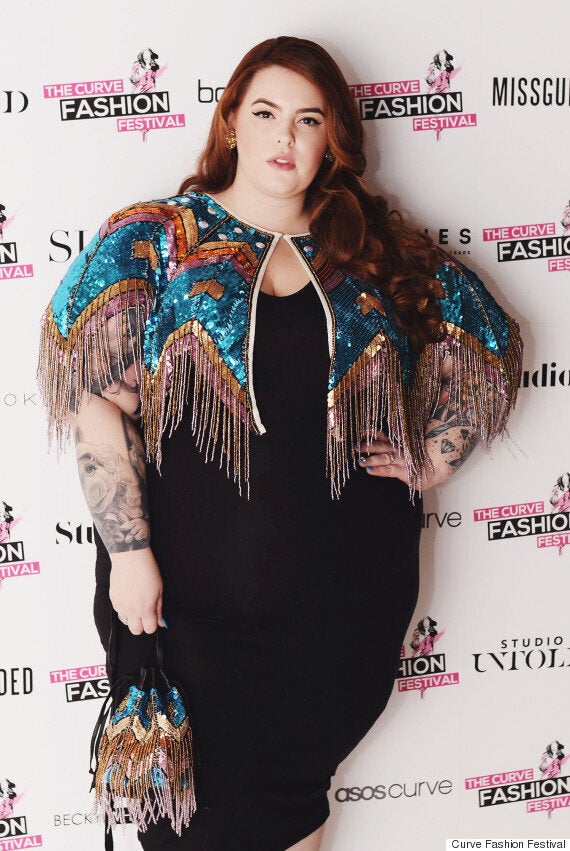 Tess Holliday at the Curve Fashion Festival in Manchester on 26 September
After being relentlessly bullied for her size and forced to drop out of school, it wasn't until she began her career as a plus size model four years ago that 30-year-old Holliday truly found body confidence.
"That was when I discovered fashion that looked good on me and a community of people that actually supported me and celebrated my size," she says.
Holliday describes herself as a "body positive activist", by which she means she is vocal about the injustice faced by people of certain sizes and the commonly-held prejudices against plus size women.
"Somebody has to speak for others," she says. "We often get pushed to the corner and people don't really pay attention to us or take us seriously - it's really frustrating."
Holliday poses for Galore magazine
It was this frustration that led to Eff Your Beauty Standards, a movement started by Holliday from her bedroom one afternoon after she found people making fun of her on blogging site Tumblr.
"People were saying because I was a certain size I shouldn't be wearing certain things and I thought 'fuck that!, I'll wear that I want to wear.'"
Today the #effyourbeautystandards hashtag has almost a million posts on Instagram alone, and Holliday now employs a team of six social media gurus across the world to help spread the message.
The popularity of Eff Your Beauty Standards led to a range of branded t-shirts, tote bags, stickers and pins - which Holliday lists for sale on her website - with a new jewellery range set to launch on 1 October.
But it won't be the model's only foray into fashion.
"I'm in the process of coming out with my own collection," she revealed. "I'm designing it now and it will launch next year. It's been really exciting, but stressful."
What can we expect from the range?
"I don't have any styling rules - for me, it's all about wearing what makes you feel good. If that means wearing a Halloween costume, whatever. If that means wearing a chic dress, then cool."
Holliday thinks the UK is on a par with America in terms of plus size fast fashion, citing ASOS and SimplyBe as her go-to brands, but she says there's still a long way to go in terms of choice on the high street.
"So many stores cut off at size 16. There needs to be more sizes," she says.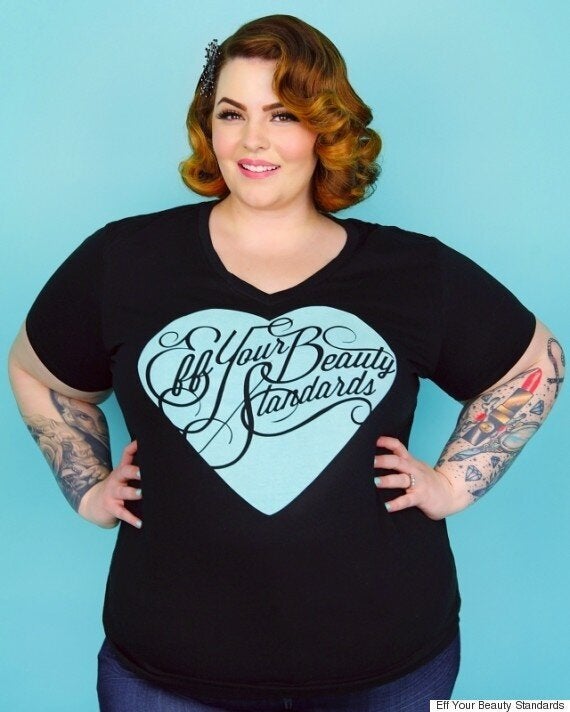 The Eff Your Beauty Standards t-shirt range
Along with her upcoming plus size clothing line, Holliday is also in top secret talks for other major projects: "Maybe a book, maybe TV."
The model attributes her success to her transparency, speaking publicly about her difficult childhood and the issues she's faced because of her size.
"Sometimes I feel like a million dollars and sometimes I feel terrible," she says. "But I've always been open about the fact that it's OK to be human and embrace those feelings."
Her career success and relationship with fiancé Nick Holliday (whose name she has already taken professionally, though they will not be married until later this year) have helped her find happiness, but Holliday admits her journey to body confidence was a long struggle.
"It's important to surround yourself with people that care about you, but also to look within and see if there's something you need to work on - for me, it was getting a therapist and talking about stuff I had dealt with as a child.
"I take antidepressants, which I was embarrassed about for a long time, but it keeps me going."
Holliday shooting for ASOS Curve collection in London last week
With millions of fans who look to her for inspiration, Holliday admits being a role model "sometimes feels like a lot of pressure."
When I ask how she copes on those darker days, she tells me: "My son (nine-year-old Riley) has gotten me through the hardest parts in my life.
"On a bad day I'll do something for myself that makes me feel good, like get a massage or a manicure. Sometimes I'll take naked photos in the mirror and post them online - which I've been known to do," she laughs.
There's been a lot of debate about whether the fashion industry should drop the term "plus size", but Holliday says that far from finding the term offensive, it is one she has chosen to "embrace".
"I embrace the term plus size. I'm plus size. It's just a word," she says. "I think people that want separation from the word are focusing on the wrong thing.
"Until there's more diversity within our industry - until we're seeing different body types and skin tones in the plus size industry - we shouldn't give a shit about the term plus size. It's just wasted energy."
One of Holliday's Instagram posts
Along with helping her on a personal journey to self-acceptance, Holliday is keen to use her modelling success and newfound fame as a platform to change the fashion industry.
"I want to see diversity in fashion," she says. "I want to see more people that look like the women and men I come across in the street."
"It's detrimental to young women to not be able to look at a fashion magazine or TV and see someone who likes like them because the reality is, we're all different."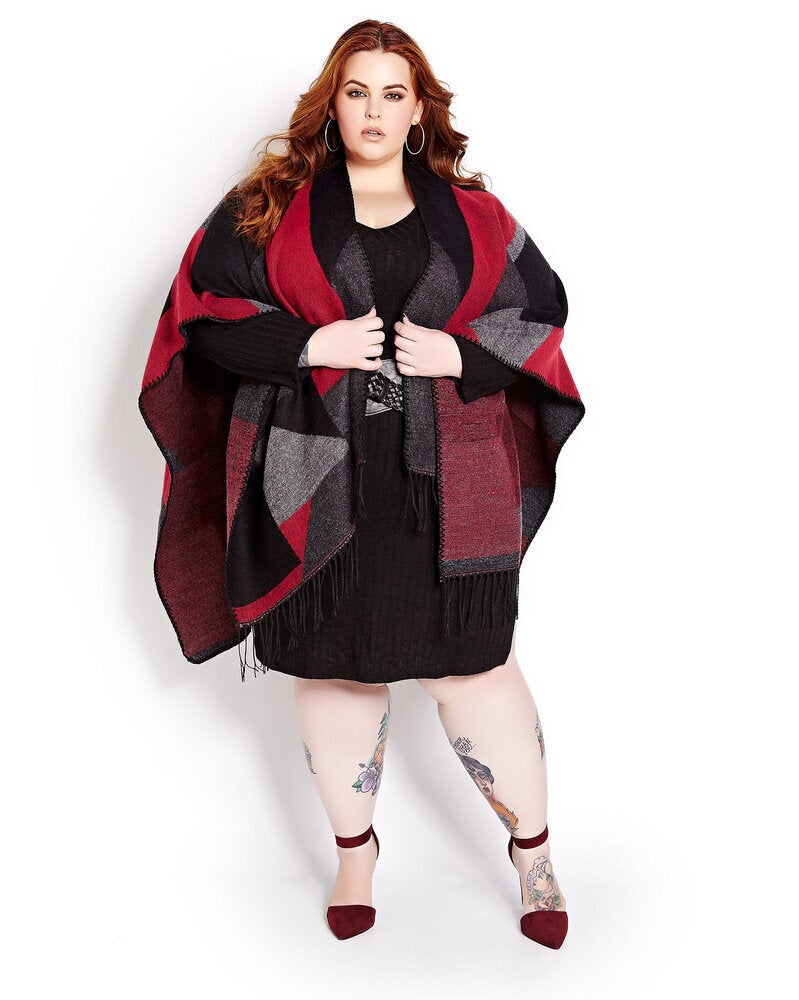 Tess Holliday Addition Elle Fall 2015
Related