A paramedic has been sacked after he was caught on camera assaulting a drunk man in the A&E ward of Royal Liverpool hospital.
Adrian Penfold-Ivany had worked with North West Ambulance Service for 13 years before the incident took place.
CCTV footage reveals the moment that the victim, who was drunk, confronted an elderly hospital visitor before the paramedic grabbed him and pushed him out of the waiting room.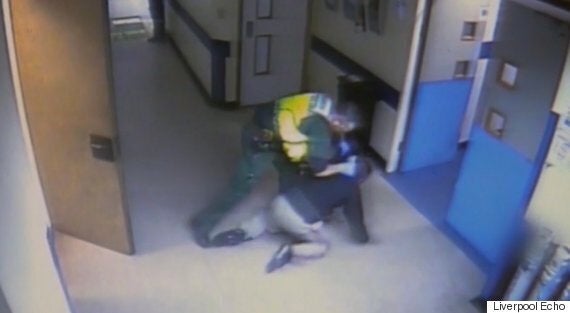 Penfold-Ivany was sacked after CCTV footage emerged of the incident
Penfold-Ivany then pushed the intoxicated man onto the floor and appeared to purposefully force his head against the wall.
Medical staff rushed onto the scene to treat the victim.
Penfold-Ivany previously told a local news source: "There was a drunk male who was shouting and swearing.
"He then put his arm around a little old lady and she was clearly terrified.
"I challenged him and he squared up to me. I ended up wrestling him to the floor and restraining him."
The paramedic was suspended after the scuffle in January and dismissed in July when an internal inquiry concluded his actions amounted to gross misconduct.
Penfold-Ivany then appealed against the ruling, but despite this North West Ambulance Service bosses rejected the plea and upheld the decision, describing the amount of force used as "excessive."
The case has now been referred to the Health and Care Professions Council.
Related