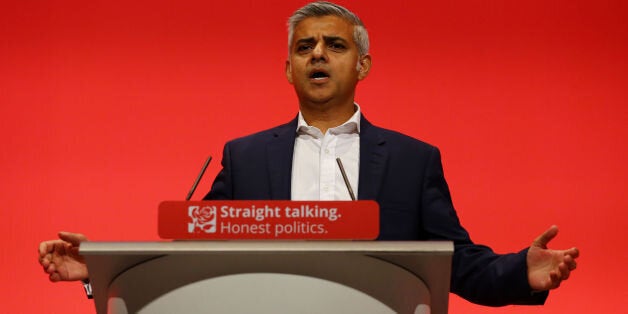 Sadiq Khan needs to clarify how he would define a "Londoner" after promising they would get "first dibs" on new homes built in the capital, according to the House Builder's Association.
Labour's London Mayoral candidate revealed the policy during the party's annual conference in Brighton today.
Mr Khan also announced he backed a "London Living Rent", which would see a certain number of properties in any new build charging rent equal to a third of the average wage in the area.
The Tooting MP vowed to turn next year's mayoral election into "a referendum on London's housing crisis" as he claimed Londoners were being "forced out" of the capital by rising property costs.
The House Builder's Association welcomed the plans but called on Mr Khan to define a "Londoner", while one housing market expert described the plans as well-meaning but unworkable.
Addressing delegates this morning, Mr Khan said: "There is one thing above all others that I'm determined to do for our city and that is to make it more affordable to buy or rent a home of your own.
"That's why I'm going to make the election in May a referendum on London's housing crisis."
He added: "With me as Mayor, we'll stand up to big property developers and insist that half of all new homes are genuinely affordable.
"We'll give Londoners first dibs on the new homes that are built. We'll bring in a London living rent and we'll build homes for first time buyers."
London is now one of the most expensive cities in the world for renters.
Figures released last month showed the median rent for a one-bedroom flat in more than half of London's 33 boroughs is more than £1,000 a month.
Statistics published by the Valuation Office Agency rents for a one-bedroom flat in Islington, North London, had increased by 20 per cent to an average of £1,213 over five years.
Two days ago, Conservative Mayoral contender Zac Goldsmith also highlighted the housing problem in London, claiming the region needs to build 50,000 new homes a year to cope with demand.
He also said the average first home now costs someone living in the capital £412,000, which means a salary of £85,000 is needed to buy the property.
The average London wage is half this - £40,752
Rico Wojtulewicz, policy advisor for the House Builders Association, welcomed Mr Khan's commitment to making housing a central issue of his campaign to become London mayor.
He said: "The idea of prioritising housing allocation to local residents is not entirely foreign. In Stratford many local parishes already give priority to local residents and SMEs have always been supportive of neighbourhood planning.
"Sadiq Khan could unlock this existing but underutilised policy, but further details would be needed before expressing an opinion. The HBA would particularly like to know under what specific criteria citizens would be classified as Londoners."
Mr Wojtulewicz added: "The issue with the London living rent is that, as the proposals stand, it would only apply to new build developments without addressing rents in existing properties.
"Without knowing what percentage of new builds would be available to the renting sector, could this policy could bring meaningful change to ordinary Londoners?"
Tracy Kellet, managing director of BDI Home Finders, also raised concerns over the proposals.
She said: "I don't see how these suggestions would be either workable or make much of a dent in London's housing needs.
"Attempting to restrict sales of new builds to 'Londoners' would be a bit of a non starter in my opinion. A vast number of new builds are bought through investment companies or other vehicles, so defining the end user/purchaser would be more than tricky and loopholes very easy to find. And restricting overseas advertising certainly wouldn't stop overseas buyers from being aware of developments.
"As for an affordable rent requirement on new builds, a laudable idea but the numbers involved would barely scratch the surface of the capitals needs as we simply aren't building enough. Also, I'd like to know how developers are going to be remunerated, if there's no profit, they won't build."
When pressed by The Huffington Post UK on how giving Londoners "first dibs" on new homes would work, a spokesman for Mr Khan said: "The is a plan to tackle the problem that sees Londoners being squeezed out of new homes.
"As a first step we'll stop properties being marketed overseas so they can be sold off-plan abroad.
"Often investors just sit on these properties and they stay empty for years."
Popular in the Community