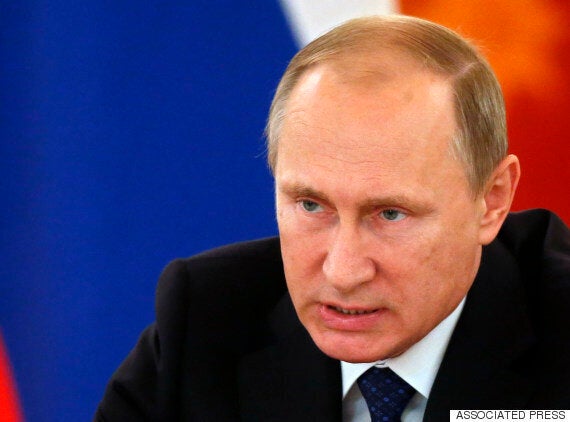 Putin speaks as he heads a meeting of the Presidential Council for Civil Society and Human Rights at the Alexadrovsky Hall in the Kremlin in Moscow, Russia, Thursday, Oct. 1, 2015
Earlier, Vladimir Putin denied that civilians had been killed in Wednesday's opening salvos. In a live broadcast from the Kremlin, the Russian president said: "We are ready for such information attacks. The first reports of civilian casualties came even before our jets took off." With the US Air Force also flying missions over the region, military planners are looking to avert accidental contact between forces of the former Cold War foes.
Attempting to assuage concerns that Moscow's mission differed from that of the US=led coalition, Foreign Minister Sergey Lavrov said that Russia and the US "see eye-to-eye" on the targeting, adding, "We believe that our position is absolutely in line with international law."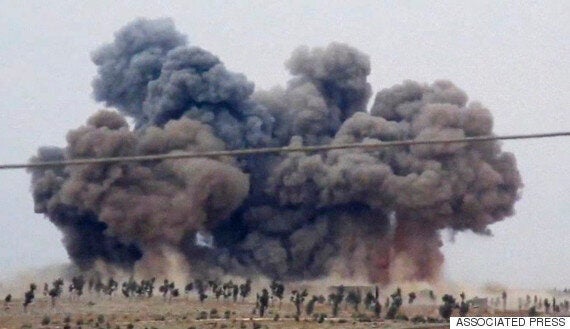 Smoke rises after airstrikes in Kafr Nabel of the Idlib province, western Syria, Thursday, Oct. 1, 2015
Russian fighters are flying in the central and northwest of the country, on the periphery of the forces loyal to Assad. Moscow is a long-standing ally of the Assad family, with Washington weary that Putin is using the cover of attacks on the Islamic State as a pretext for hitting the president's opponents.
Former Republican presidential nominee John McCain spoke on Thursday, claiming Russia's military had attacked CIA-backed groups hostile to Assad. He told CNN: "I can absolutely confirm to you that they were strikes against our Free Syrian Army, or groups that have been armed and trained by the CIA, because we have communications with people there."
Russian Defense Ministry spokesman Igor Konashenkov said his country's military had destroyed 12 ISIS targets on Wednesday, but did say other groups had also being hit. According to the Syrian Observatory for Human Rights, those other groups include Tajamu Alezzah, a US-backed group in Hama, as well as the al-Qaida affiliate Jabhat al-Nusra.
Popular in the Community