The TV presenter finally undertook the Ice Bucket Challenge on Friday (2 October), fulfilling a promise he made during the Pride Of Britain Awards.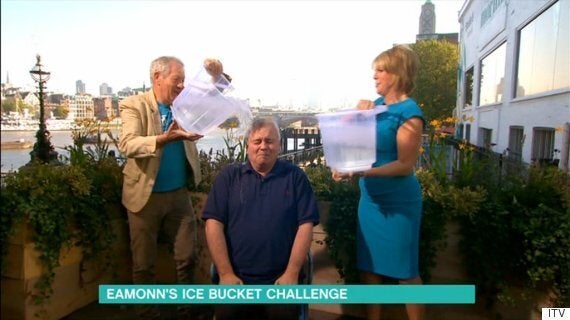 Eamonn Holmes undertook the Ice Bucket Challenge
Eamonn failed to take part when the craze swept the internet last year, but finally caved after coming under pressure from the creator of the Ice Bucket Challenge, Paula Maguire, during the ceremony on Monday night.
He said he would be dedicating the challenge to the late father of his former Sky News co-star Charlotte Hawkins, explaining: "I'm doing it for you Paula… and it's close to my heart... Charlotte Hawkins from 'Good Morning Britain', I knew her dad well and this disease killed him as well.
"So I'm going to do it for you Charlotte, and your dad who was a gentleman."
However, he looked pretty nervous as he prepared to have ice-cold water poured over him on the balcony outside the show's studios, by wife Ruth Langsford and guest Sir Ian McKellen.
"But who would know if I didn't do it?" Eamonn asked.
"The nation will know!" Sir Ian replied. "Be a brave boy, you've got a lovely day for it. And you know you can nominate three people."
Arriving with the buckets of iced water, Ruth counted down from five before both she and Ian poured their full buckets over Eamonn.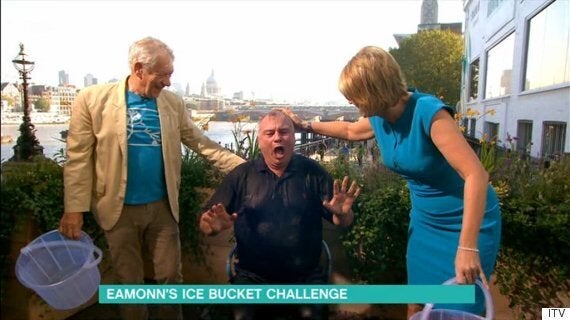 Ruth took great delight in soaking her husband
As he tried to catch his breath after the moment, Sir Ian joked: "Eamonn Holmes speechless, we've all longed for that!"
Popular in the Community