George Osborne may have looked awkward turning his hand to American football on Friday, but the chancellor boasts some impressive plans to make London the "sporting capital of the world," including providing a permanent home for an NFL team.
Osborne threw a pigskin outside Downing Street after meeting with executives from the National Football League in which he exchanged an American football for a Rugby World Cup 2015-branded ball.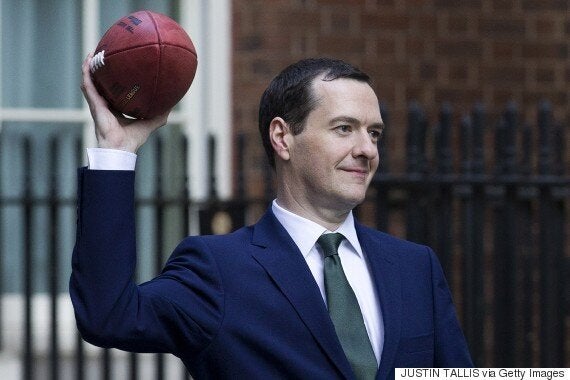 Osborne throws an American football as he meets with former American football players Dan Marino and Curtis Martin in Downing Street
After the meeting, the chancellor made clear he wants to have an NFL franchise based permanently in London within the next five years.
He met with NFL representatives, team owners and former players ahead of the Miami Dolphins face-off with the New York Jets at Wembley Stadium on Sunday.
Osborne said he would "love to have a team here based in the UK playing in the NFL" and he believes "we are making steps towards that" goal, according to the Press Association.
He said: "The real prize, the touchdown for London, would be to get a team based here."
When asked about the potential time frame for a team coming to London, Osborne said: "Hopefully it is something we could achieve in the next few years, maybe four or five years time.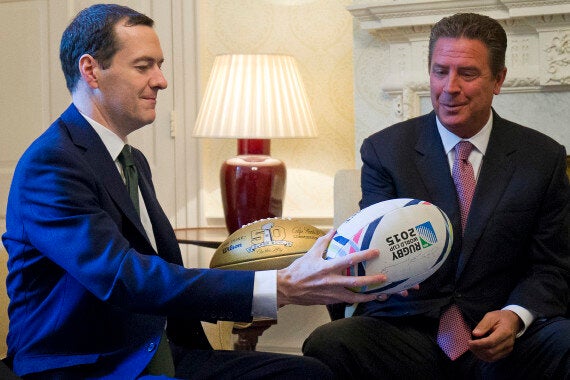 Osborne presents the American delegate with a rugby ball
"These things can't change overnight because obviously teams are already based in some home cities in the States.
"But I am in talks with the NFL, sorting out the arrangements.
"They get such a huge welcome, teams like the Dolphins and the Jets when they come here, there is a big fan base here and it would mean a huge amount for our economy because it would confirm London as the sporting capital of the world and that is what I want to see."
PA asked Mark Waller, the NFL's executive vice president international, if it was a question of when, rather than if, London would get its own franchise.
"I would certainly hope so, yes," he said.
"We have always said our goal here is to build a fanbase that would be able to support a franchise."
Mr Waller continued: "We have always said that we felt that we started in 2007 with the games and we felt it was a 15 year process so that would give us years '21, '22 and that feels sort of right – five or six years."
The NFL already has an annual presence in the UK with numerous regular season games now being played at Wembley Stadium every year.
Related