Harrowing video footage has been released by the Syrian Civil Defence (SCD) showing the shocking reality for millions of people in the war-torn country.
The unit of volunteers - also known as the White Helmets - can be seen rescuing children from a crumbling building in the city of Douma. Missiles can be seen firing in the backdrop as the team works to free those stuck inside.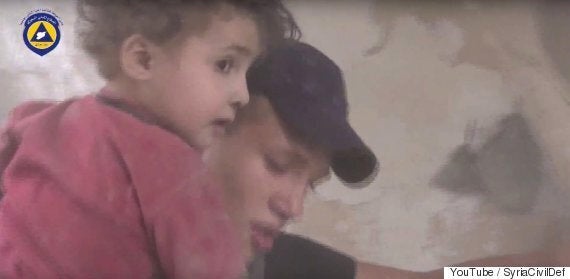 A little boy is carried away by a member of the White Helmets
The SCD reported that on 1 October Russian attacks in Homs killed ten children, seven women and 17 men, whilst wounding 45 children, 27 women and 74 men.
Despite the Russian presence, Syrian and US jets also operate in the country's airspace and it was not clear who carried out the strikes shown in the footage.
The video shows the SCD rushing into a badly damaged building in Douma. One volunteer is carrying an orange stretcher as he clambers over debris.
The camera follows the team as they head inside the rubble. Rescue workers can be seen carrying children out of the building.
Suddenly the sound of an incoming missile can be heard. Shortly afterward masonry begins to collapse in the already ruined room.
Desperate screams pierce the room as soot-covered faces emerge. The camera is then carried from the building onto a street ablaze with orange.
The footage highlights the reality of life for many across the state and it encapsulates why many decide to flee such desperate circumstances.
According to the United Nations High Commissioner for Refugees (UNHCR), an estimated 9 million Syrians have fled their homes since the outbreak of civil war in March 2011.
Popular in the Community