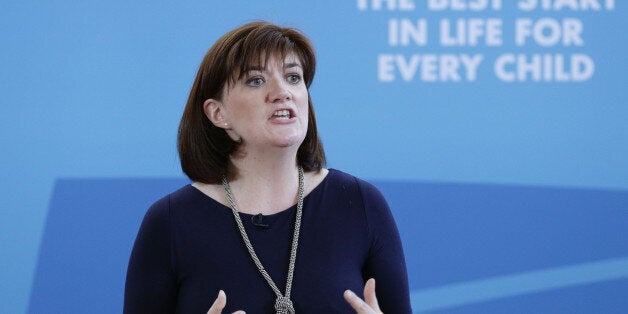 Nearly three quarters of the public think that mobile phones should be confiscated from school pupils during lessons, according to new Survation/HuffPostUK poll.
Amid fresh calls for headteachers to tackle phone misuse, the survey found that 74% of all voters - and 82% of Tory voters - think mobile phones should not be allowed in the classroom.
The results came as Education Secretary Nicky Morgan backed the idea of creating wifi blackspots in classrooms to avoid low-level disruption to lessons.
In a Conservative party conference fringe event with HuffPost UK, Ms Morgan also revealed that she was battling to protect school sixth forms from deep cuts expected to further education in the Chancellor's spending review next month.
"There is a discussion to be had there. And people can be assured that I'm having it with the Treasury," she said.
In a wide-ranging discussion, the Education Secretary also:
- said she that had not put a 'timetable' on the long-awaited verdict on a new grammar school in Sevenoaks, but stressed that it would be her decision rather than Downing Street's.
- denied that the Government's switch away from GCSE and A level course work towards exams would undermine girls' results
- urged heads to use performance related pay to reward good staff
- confirmed that schools in shires areas would get 'fairer funding' but said it would take 'time' to get right.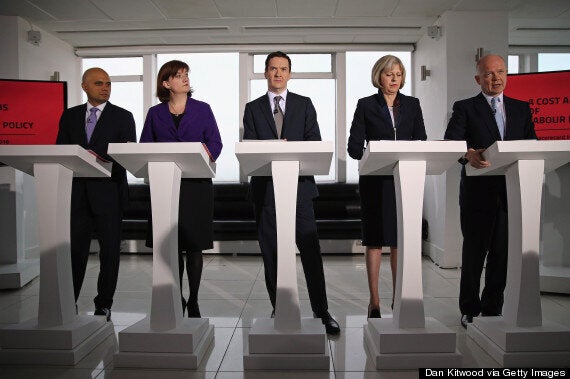 Ms Morgan helps launch the Tory 2015 general election campaign
The Survation/HuffPostUK poll found that 74% of all voters backed the idea of confiscating smartphones during all lessons. Only 18% of voters disagreed.
Mobile phone disruption is seen as a key issue by Ms Morgan's 'behaviour Czar' Tom Bennett, who recently declared they were an 'enormous distraction' to both teachers and pupils.
He told The Times in August: "People who argue for these things are often technology zealots. There are certainly some classroom uses for phones, such as taking a picture of notes, but that's a small minority of lessons."
Ms Morgan today stressed that her 'instinct' was not to ban technology, but she praised Mr Bennett for his work in 'highlighting really good practice across the country' in tackling poor behaviour.
"There is a school up in Lincolnshire where they have what's quite a simple idea, which was there were only certain spots around the school where there was wifi access.
"They didn't have wifi access in the classrooms unless that is something specifically that the teacher had decided that was right for that particular lesson. It goes back to trusting the front line professionals, that's what we are all about."
Ms Morgan said she wanted youngsters to be confident with using new technology, and that "as a Conservative the instinct you ban something, or to stamp it out, doesn't address the underlying cause."
"I do think that there's no doubt that if a pupil wants to cause a bit of trouble and disruption then yes that could be a punishment to use a smartphone or technology.
"We've given teachers the powers in order to search bags, to confiscate items and if necessary to delete images off phones if that sort of thing is causing trouble or harassment. Part of my task is to make sure we've got great teachers, great leaders in our school system because they are the ones that really drive good performance."
Ahead of the coming spending review, she conceded that post-16 funding was in the firing line for cuts but gave a strong hint that she wanted to protect school sixth forms.
"I completely understand the importance of sixth forms, sixth form colleges and post-16. We made a decision in the last Parliament to really focus on the early years and primary school. But we understand that post-16 is in a fragile state.
"I do think school sixth forms are very important. When I got to secondary schools, it's very interesting talking about sixth forms.
"I do think that young children like to look up to older pupils. And the older ones gain a huge amount by supporting younger pupils. So there is a discussion to be had there. And people can be assured that I'm having it with the Treasury."
Asked about just how she was standing up to the Treasury, she replied: "I'm not going to go into the details and tactics and negotiations and all the rest of it, but the reason that I love my job is because it is all about investing in the future and I'm definitely making that point to the Treasury.
"I don't think any of us are pushovers, to be a minister you can't be. The Prime minister has asked us all to do jobs as ministers and that means actually fighting our corner while understanding the broader economic narrative which was at the heart of why we were elected."
Many schools are coping with a shift away from course work for GCSEs and A levels, but Ms Morgan played down suggestions that the change would hit girls hardest.
"I don't think you can make judgements on the basis of gender. I think it's absolutely right that we made the changes so that both teachers and pupils weren't constantly thinking about the next test, teaching to that test, teaching to that bit of course work," she said.
"I think it would be a mistake to say course work is right for girls and exams are right for boys. Actually it's about students."
She also underlined her determination to deliver more money to shire councils who felt they lost out under the funding formula created under Labour.
"We made a commitment in the manifesto to fairer funding. It must be right that the same child with the same attributes attracts the same funding across the country," she said.
"I represent a constituency in Leicestershire and in neighbouring Leicester children are getting £800 per pupil more than they are in Leicestershire and that can't be right. And that's something that's replicated in Cambridgeshire, in Worcestershire, in Solihull."
But she stressed to Tory campaigners: "You'll have to give us a bit of time, it's complicated and we want to get it right."
Ms Morgan also said that the Pupil Premium policy, which directs extra cash at schools with disadvantaged pupils, was bearing fruit and praised those heads who used the money to help not just with extra tuition but also school trips that children could not otherwise afford.
"Sometimes it is things like helping children to go on school trips that otherwise they would miss out on. Education is as much about the broadening of horizons and things like experiences that other members of the class are going on, if that's something that the Premium can help with, that's all to the good."
She also flagged up that heads should do more to exploit the new performance related pay powers the Government was introducing.
"Of course one there is performance related pay, we introduced that last year. I'm keen to see schools making more use of that because it's not just about tackling the bad but incentivising the good."
Asked about the long-awaited decision on an application by the Weald of Kent school to open a new grammar school in Sevenoaks, she said: "I'm a former lawyer so I know that lawyers will always challenge everything. We are getting legal advice.
"I'm not going to put a timetable on it because I want to make the right decision according to what's been presented to us. But I also understand that people want us to get on with that that. I'm very mindful of that."
Asked if the ultimate decision will be taken by No.10 she replied: "No, it will be the Secretary of State who makes the decision."
Ms Morgan attacked Labour's new policy under Jeremy Corbyn of returning academies and free schools to council control.
"The only policy they have come up with so far is about reinventing the structures, rolling back the years, putting more bureaucrats in control. I think that's a huge mistake."
Related