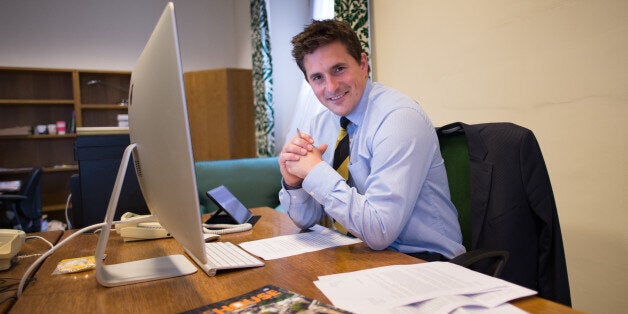 A Conservative MP and former Army officer has told of being attacked as "a f***ing Tory" as he made his way out of the party's conference centre in Manchester.
Writing on The Huffington Post UK, Johnny Mercer said the anti-austerity protesters that are picketing the venue "looked like they had spent a considerable period away from any sort of washing facilities".
The MP for Plymouth Moor View said: "There was a noisy and irritating protest going on. I asked a Police officer about the best way to go, and if it was safe to move freely among the crowd. Nothing to give you confidence in control of the situation like a policeman's shrug 'you can chance it if you like mate.'
"I moved past the crowd to where a group of masked activists were who unfortunately lay between me and my car. They were penned in by some Police, and not enough Police dogs for my liking. I went to push through the cordon when an individual recognised me from the stage (no idea how).
"'Are you a f***ing Tory?'
"I was getting a little annoyed. 'Yes I am a f***ing Tory mate, is that ok with you?'
"He started pointing me out to his mates, who all looked like they had spent a considerable period away from any sort of washing facilities. In fact, some of my lads looked better in Afghanistan after an 18 day patrol. And smelled nicer."
More than 60,000 have taken to the streets in central Manchester to demonstrate against the government. The protests have for the most part been peaceful.
However several Conservatives, as well as Labour politicians in attendance, have complained about being threatened. Journalists have also been targeted by some in the crowd, including a Huffington Post reporter who was spat at.
On Saturday, Labour leader Jeremy Corbyn encouraged protesters to be respectful. He tweeted: "Ahead of Tory Conference I urge all activists to focus on policy & to take no part in personal attacks."
On Monday afternoon Boris Johnson was pelted with balls as he made his way into the the conference centre. The London mayor was escorted by police in to the conference secure zone after being spotted by anti-austerity protesters.
In his blog, Mercer also recalled having spent a "fairly miserable three days" at the party conference last year which was "compounded by some very young, very posh, very friendly types desperate to talk about the theory of economics and Team 2015". The event, he said, was "horrendous".
He added: "I came from an entirely non-political background. I frequently assess a policy for myself, and it's relativity to Plymouth before supporting it, or writing a note to the minister saying I have concerns. I listen to everyone - particularly those who didn't vote for me, for it is my role to represent everyone, especially those who didn't vote for me.
"But I would never listen to this crowd. They are not protesting politics, and they are not standing up for the most vulnerable. They are simply on a mission of troublemaking, of vengeful envious messaging, symptomatic of a generation that had something for nothing for so long."
Popular in the Community