Those attending spotted figures with guns on the rooftop and pointed out the "worrying" presence of the marksmen.
But police defended the use of snipers saying they were "not there to shoot people".
[Photo credit: Chris Maddison]
One of the pictures, shared on Twitter, showed a man dressed in black on a roof surrounded by equipment and pointing a gun at the road below.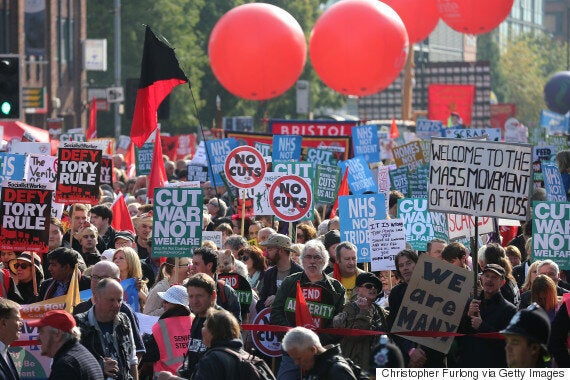 Protesters marched against austerity cuts
Up to 80,000 people were thought to have attended the demonstration against Conservative austerity measures, organised by the TUC and other protesters.
Some people expressed concern at the snipers being there, but Greater Manchester Police (GMP) claimed the guns were used to "observe" because of their powerful viewers.
[Photo credit: Chris Maddison]
Chief Superintendent John O'Hare from GMP told The Huffington Post UK: "Rifle Officers are one of a number of specialist roles which are deployed on the ongoing operation to manage the Conservative Party Conference, which began yesterday and runs until Wednesday 7 October 2015.
"This deployment is not unusual, and they have been used for previous party conferences, both Conservative and Labour, over the years here in Manchester.
"This should also be viewed as part of the wider context, which is that we are hosting the ruling government of the day while the terrorist threat level has been set at the highest point for several years.
"Despite what is being reported, they were not on duty specifically to assist in the policing of the TUC march, except in a minor observational role due to their elevated position above the streets."
A GMP spokesperson told the Manchester Evening News the snipers were part of "an ongoing observation of the biggest march that has ever been in Manchester because of the Tory Party conference."
The spokesperson added: "But they are there purely for observation and supporting the police at the march as it's a major public event.
"They are high up for that reason, to observe. And they [the guns] are used for their powerful sight, which is stronger than any pair of binoculars.
"They are not there to shoot people."
Some commenters on Twitter were unimpressed with this explanation:
@HuffPostUK hmm if only there was a viewing type thing that showed you people near or far that didn't have a high powered gun attached.

— Karin Lovell (@LovellKarin) October 5, 2015
TUC general secretary Frances O'Grady condemned the "unacceptable" treatment of Huffington Post UK report Owen Bennett and the Daily Telegraph's Kate McCann after they were sworn at and surrounded in Manchester city centre.
One protester spat at Bennett and others yelled "scum" at both journalists.
Bennett said he was angry and "a bit shaken" after the episode.
He told HuffPost UK: "No one - regardless of who they are or who they work for - deserves to be spat at when they are doing their job.
"It was disgusting and I have no idea why he did it.
"What was even more worrying were the protestors who surrounded me and Kate McCann from the Telegraph. Even when they were told we were journalists and nothing to do with the Conservative Party, people were telling me I still deserved to be spat on.
"This is a worrying development and it seems the abuse journalists receive online is now moving out and on to the streets.
"I really hope people stop and think about the way this is going."