Ambulances have been called to the headquarters of Sports Direct 82 times in the last two years amid reports workers were "too frightened" to take time off sick, an investigation has revealed.
The list of 999 calls reveals staff at the sports retail giant's main warehouse suffered "life-threatening" illnesses including chest pains, breathing problems, convulsions and strokes.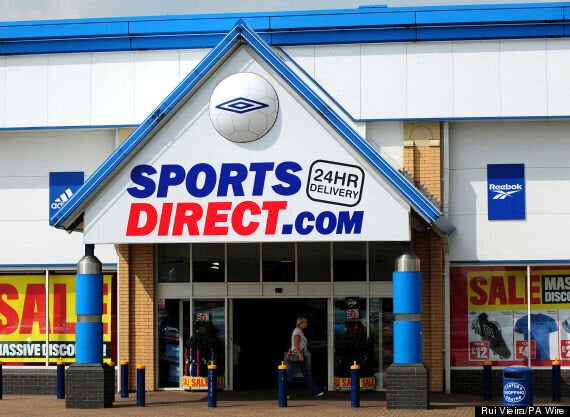 In total, 76 ambulances or paramedic cars were sent to the distribution centre's post code in Shirebrook, Derbyshire between January 2013 and December 2014.
Nearly half (36) cases were classed as "life-threatening" incidents.
A snapshot of the reasons for calls lists "convulsions/fitting", "unconscious/fainting" and "falls".
The BBC investigation, which will air tonight at 7.30pm on BBC One's Inside Out programme, claims that some Sports Direct workers at the site are too scared of losing their jobs to miss work due to illness.
Some are afraid of the 'six strikes' policy used by one recruitment agency that provides staff to Sports Direct, the programme will claim.
The BBC reports that this policy means any person who has six 'strikes' in six months will lose their work at the retailer. Strikes can be given for sickness, "excessive chatting", "excessive or long toilet breaks" and using a mobile phone in the warehouse.
The union Unite says it was told last year that there are around 3,000 agency workers at the headquarters.
The investigation programme features Guntars Zarins, who experienced a stroke in the building's canteen.
The 52-year-old's daughter said he had "gone to work with flu symptoms because he was too frightened to take time off" according to the BBC.
The family does not blame Sports Direct for the illness, but his daughter said: ""He [was] even scared to take one day sick. Now I know why, because what is happening there is not normal."
Zarins was paralysed on his right side, and has since had another stroke.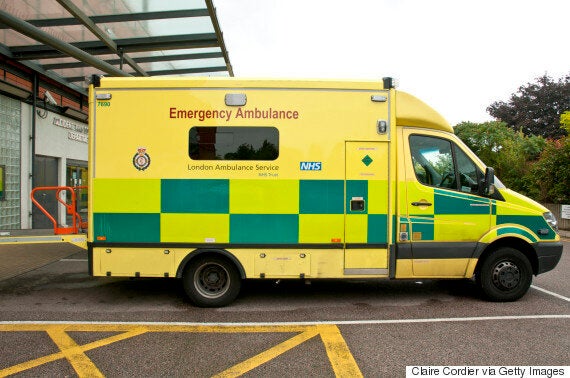 76 ambulances or paramedic cars went to the headquarters in two years (file photo)
Miliband singled out Sports Direct as a "terrible" employer for some of its staff, claiming that 17,000 of its 20,000-strong workforce are on zero-hours contracts which give a worker irregular shifts and no guaranteed hours, often without sick pay.
But Sports Direct told The Huffington Post UK that: "The Shirebrook warehouse staff employed by the two agencies have guaranteed hours of employment - there are no 'zero-hours' contracts in place in Sports Direct's warehouse operation."
The BBC says it has passed the ambulance research to the Health and Safety Executive for examination.
Sports Direct told HuffPost UK: "We aim to provide working conditions in compliance with applicable employment and health and safety legislation and seek to provide safe working conditions for all staff working in our warehouse.
"We take extra health and safety precautions with pregnant women and if there are material concerns for the wellbeing of an expecting mother or her baby, an ambulance would be called as a precaution."
"The agencies operate a performance strike system. Such systems are used across the industry for permanent and temporary staff. They are designed to be straightforward systems to ensure that all staff understand what is expected of them.
"The system, amongst other things, takes into consideration the member of staff's time keeping, attendance, sickness, conduct and performance target levels. When a member of staff falls below the required standards, the reasons for this will be discussed (including any mitigation) and support and training will be provided to help the individual reach the targets expected of them. Where any member of staff continues to fail to reach these targets, a strike may be issued as a ¼, ½ or full strike. Any strike/partial strike issued expires after a six month period.
"We take any allegation that we may have breached health and safety or employment regulations very seriously.
"Inside Out appears to have formed its allegations based upon the accusations of a handful of disgruntled ex-staff and hearsay, with many of the allegations made anonymously which makes properly investigating them impossible.
"For the key identifiable allegations, Sports Direct and/or the two agencies that employ the Shirebrook warehouse staff have provided factual responses which show them to be unfounded."
The BBC noted that of the 999 call from the warehouse, six were connected to car accidents on a road nearby and one was for a dog bite.
Seven calls for ambulances were cancelled.
Popular in the Community