Boris Johnson was pelted with balls as he made his way into the Conservative Party's conference in Manchester on Monday afternoon.
The London mayor was escorted by police in to the conference secure zone after being spotted by anti-austerity protesters.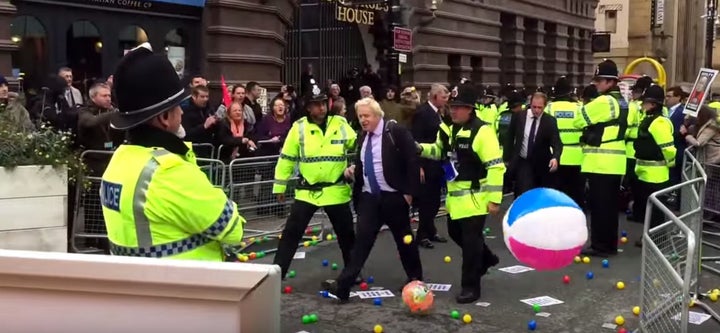 Boris, who is one of the frontrunners to succeed David Cameron as Conservative Party leader before 2020, gave the protesters a wave of his conference lanyard as he dodged the flying balls.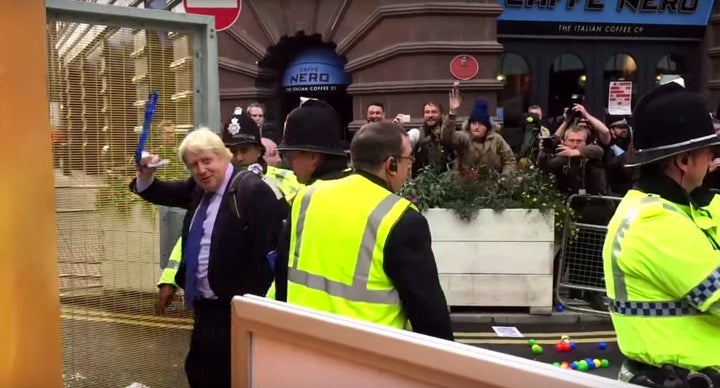 More than 60,000 have taken to the streets in central Manchester to demonstrate against the government. The protests have for the most part been peaceful.
However several Conservatives have complained about being threatened. Journalists have also been targeted by some in the crowd, including a Huffington Post reporter who was spat at.
Boris was also targeted by activists when he walked into the conference centre last night. He was greeted with chants of "Tory scum!".
Once inside at speaking to a more friendly Conservative crowd, Boris said: "What a wonderful welcome we received earlier from some of the assorted crusties with nose-rings. They shouted as I came in "Tories, come! Tories, come!"
Popular in the Community