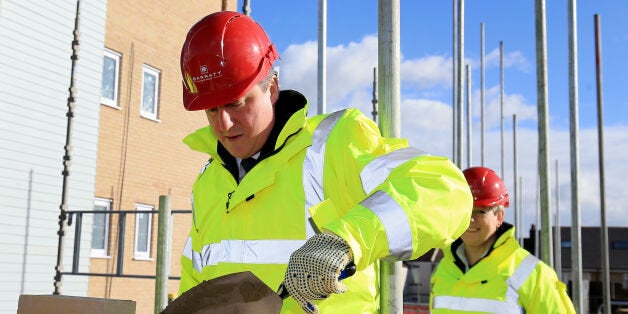 David Cameron will pledge to turn 'Generation Rent' into 'Generation Buy' with controversial new plans to allow developers to sell rather than rent out newly built 'affordable homes'.
In his leader's speech to the Tory conference, the Prime Minister is set to unveil proposals to help him hit his manifesto pledge to build 200,000 more 'low-cost' homes for first-time buyers by 2020.
Under what he calls a 'dramatic shift in housing policy', Mr Cameron will reveal that Whitehall and town hall planning rules will be changed to allow house builders to create more 'economically viable' homes for sale rather than rent.
The definition of 'affordable housing' will be changed to include so-called Starter Homes – offered for sale to people under 40 at a discount of up to 20% off the normal price – rather than just cheap homes for rent.
But with subsidised homes under the scheme priced at up to £450,000 in London and £250,000 outside London, Mr Cameron risks accusations that the price-tag makes a mockery of the 'affordable housing' definition.
Figures from the Council of Mortgage Lenders for 2014 showed that first-time buyers in London typically earned £56,314 and took out mortgages of £216,000 – well below the £450,000 maximum price under the scheme.
Yet the Prime Minister will hail his new policy as proof that the Tories are turning the 2010s into 'the turnaround decade', with improvements not just to housing but also schools, prisons and social mobility.
Government sources pointed to surveys showing that 86% of people want to own their own home rather than rent and a fifth say the high price is the main barrier.
The Starter Homes policy gets developers to charge 20% less than the market rate for their homes, paid for by councils agreeing to waive the fees normally charged for local amenities.
At present, many developers are shy of building 'affordable housing' for rent as they believe it fails to generate enough returns on their investment, but offering the homes for sale will make it easier to get schemes off the ground, Downing Street says.
The new policy will mean that councils cannot hold out for one type of 'affordable' housing over another, effectively giving the green light to discounted homes for sale rather than homes with discounted rents.
Mr Cameron will say in his speech: "When a generation of hardworking men and women in their 20s and 30s are waking up each morning in their childhood bedrooms – that should be a wakeup call for us.
"We need a national crusade to get homes built. That means banks lending, government releasing land yes – planning being reformed.
"For years, politicians have been talking about building what they call 'affordable homes' – but the phrase was deceptive. It basically meant homes that were only available to rent. What people want are homes they can actually own."
In a dig at housing experts and council staff, he will say that "the officials who prepare the plans for the new homes, the developers who build them, the politicians who talk about them… most of these people own the homes they live in. Don't they realise other people want what they've got – a home of their own?"
He will add: "Those old rules which said to developers: you can build on this site, but only if you build affordable homes for rent, we're replacing them with new rules.
"You can build here, and those affordable homes can be available to buy. Yes, from Generation Rent to Generation Buy, our party, the Conservative Party, the party of home ownership in Britain today."
Critics may see the policy as the Tories' realisation that the only way to achieve their 2020 target of building 200,000 Starter Homes is through big changes to council planning rules on rental homes.
Housing experts such as Shelter estimate that the UK needs around 250,000 new homes to be built each year in order to keep up with demand.
When the Tories first proposed their Starter Homes plan in the 2015 general election, the National Housing Federation's Henry Green said "It is basically taking money away from people who are renting and giving it to first-time buyers".
As part of our 'Beyond the Ballot' series in the election, HuffPost UK set out the scale of the problem facing young people now classed as 'Generation Rent'.
Popular in the Community