Greenpeace has criticised the UK's largest tuna brand for the "indiscriminate killing of marine life" and accused the company of breaking assurances to use sustainable fishing methods.
In a league table of tuna suppliers produced by Greenpeace, John West has been ranked last because 98% of the company's tuna is caught using "unsustainable fishing methods", which as a consequence "catch sharks, endangered turtles and other creatures".
Greenpeace accused the fishing giant of "plumbing the depths of irresponsibility" as it continues to catch Most of its tuna using nets with Fish Aggregating Devices (FADs), killing other marine wildlife.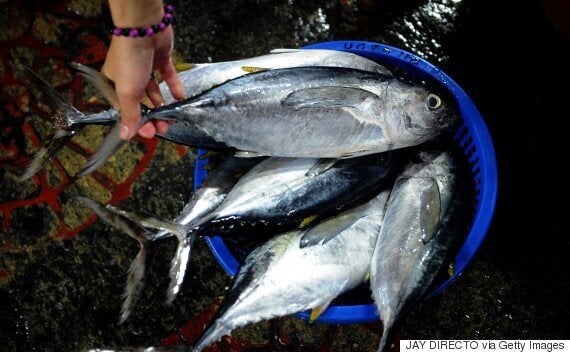 John West has been accused of breaking itsto achieve 100% sustainable fishing by 2016
But John West maintains that they are just as "committed" to protecting the marine environment as when they made the promise in 2011 to achieve 100% of its sustainable tuna fishing by 2016.
Ariana Densham, Oceans Campaigner at Greenpeace UK, said: "In 2011 John West guaranteed consumers its tuna would be 100% sustainable by 2016 – but with little over a year to go, a pathetic 2% of its tuna is caught in a way which minimises harm to other marine life. It's clear John West has no intention of keeping its sustainability promise.
"It's a great achievement that all major supermarkets in the UK now only use fully sustainable tuna in their own brand products, caught using the pole and line method or in nets without FADs, which minimises harm to other animals.
"But John West continues to plumb the depths of irresponsibility – flooding our shelves with cheap tuna which comes at a huge cost: the indiscriminate killing of marine life. It's also undermining the world-leading standard set by UK supermarkets.
"The tide is turning on companies which sell unsustainable tuna and unless John West keeps its promise to UK consumers to stop using destructive fishing methods, it will find itself cast adrift."
A spokesman for John West said: "The only thing that has changed is some of the methodology we employ to achieve that promise. All of our tuna is – and will always be – dolphin friendly."
John West disputes the figures quoted by Greenpeace and says that a little more than 20% of its tuna is pole and line, but that a lot of this is provided to retailers for their private labels.
Their spokesman added: "We don't agree with Greenpeace that pole and line is the only way to achieve sustainability in the tuna industry.
"Indeed, with significantly less than 10% of all the tuna in the world being caught using the pole and line method, and the global demand for tuna growing, it is clear that quite simply there is not enough pole and line tuna available.
"With growing demand and falling global supply, it is vital that the industry finds other ways to increase sustainability."
Greenpeace's Tuna League Table 2015 saw strong results from Waitrose, Marks and Spencer and Sainsbury's, with significant improvement from Tesco.
Popular in the Community