The five things you need to know on Wednesday October 7, 2015...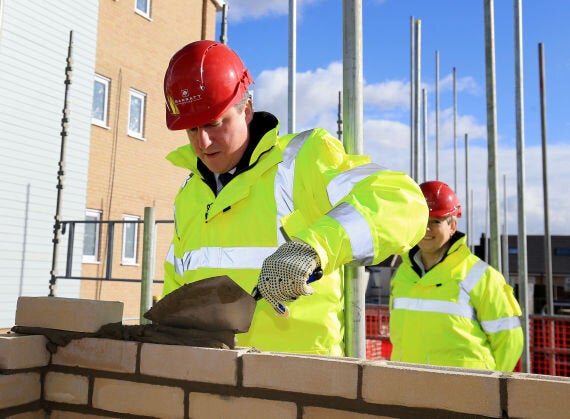 1) TURNAROUND, BRIGHT EYES
There will be more than a few bleary eyed conference-goers trying to sober up this morning after the usual eve-of-Dave-speech-late-night blowout (though sadly the karaoke didn't feature John Whittingdale's promised 'Bat out of Hell'). David Cameron himself had an early night as he prepped for his 10th conference address as Tory leader and his sixth as Prime Minister.
And it's a bright-eyed Cameron who will look both forward to the future and back to his first term as he sets out why he wants the 2010s to be remembered as the "turnaround decade". Yep that's the phrase we've been briefed overnight. Most PM's worry about their legacy, but few actually give what Alastair Campbell used to call a 'running commentary' on their own place in history.
Yet Cameron wants to ram home his over-arching theme that he's presiding over not just an economic recovery but a social recovery. You can expect lots of social policy today, from prisons to kids in care to the elderly to poverty and social mobility. The PM will describe (t)his Decade as "the time when the tide turned – when people no longer felt the current going against them". He'll even add 'nothing is written', a line perhaps subconsciously nicked from his fave movie Lawrence of Arabia.
The main policy nugget overnight is the relaxation of planning rules to let householders build more 'affordable' homes for sale rather than for rent. Whether 'Generation Rent' 'buys' the plan - which is aimed at "turbo-charging" the PM's bid to hit his target of 200,000 Starter Homes by 2020 - remains to be seen. An LSE academic and Generation Rent campaign weren't too overwhelmed on the Today prog. (As for young people, Matt Hancock has also come under fire too for saying under-25s were not 'productive' enough to get the National Living Wage. Though Labour haven't yet adopted Andy Burnham's own age-blind min wage plan),
The more interesting point about Dave's Decade, as it may come to be called, is that it actually may be a full 10 years. No.10 sources were briefing yesterday that Cam really will serve 'a full second term'. (Note this wasn't Blair's slippery formulation 'stand for a full term', it was 'serve').
Asked on Marr again about this on Sunday, he repeated the 'full second term' line and added that '10 years as Prime Minister is quite a lot'. He made it sound like not just a maximum but also a minimum tenure period. Will he 'do a Major' (he's already got the tiny majority and Europe woes) by quitting as leader in 2019, say, but remaining as PM until 2020? And would any new leader other than George Osborne allow that?
Theresa May's dress gets a fair bit of attention in the Mail, and her speech did seem in many ways like a semi-naked leadership bid (groan, I know). Iain Duncan Smith's 'running beauty parade' slapdown to both May and Boris (and Nicky Morgan) came from a man who's had to deal with his own fair share of leadership jockeying. IDS warned: "I would certainly say to them 'honestly you have to get it under control'. If the public sees that we are so venal that we assume that we have a right to be in power in five years time they will do their level best to kick us out."
Labour MP Jess Philips tweeted "I know it's a controversial view and it will not make me popular but I really like the neckline on Teresa may's dress. Terrible speech mind". And the Institute of Directors, the Telegraph and Spectator all poured a bucket of manure over the Home Secretary's remarks about the damage caused by immigration and its 'zero' impact on economic growth.
Some Tories last night were pointing out that May would probably get plaudits from the public for her remarks and stressed the difference between the Metropolitan elite/Twitterati and UKIP-tempted voters. But May's real problem was her speech sounded like a withering criticism of whoever's been responsible for failing to hit the Tory net migration target…one T May.
Speaking of beauty parades, the Speccie's Isabel Hardman has revealed that female MPs are unhappy at being asked to be Dave's 'arm candy' for photos of him walking to and from the main hall. And Nicky Morgan is again on manoeuvres, saying she would 'flatten' any journalist who described women MPs as 'arm candy'. That had echoes of her 'Girls?!' riposte to No.10 cameramen.
Still, Downing St is wary of Morgan's wooing of female journalists. But it will be more wary that NiMo has attracted some support this week. With talk that she's due to visit a string of Tory associations for dinners in the run up to Christmas, this one's not going away.
Within seconds of Boris's speech, I tweeted that it was the best I'd heard him deliver (and I've heard scores of em). Why? Because he managed properly for the first time to blend his comic gifts with a deadly serious narrative about who he is and what he stands for: a One Nation Tory who prefers to unite rather than divide.
Zac Goldsmith's stilted performance beforehand (why no mention of Heathrow from him by the way?), as well as Mrs May's own monotone, reminded the hall just how good an orator Boris can be. In fact, other than David Cameron, he was the only professional public speaker on display this week.
Team Boris worked and worked on this speech for a long time, removing the stray gags, honing the overall arc, and it was only completed hours beforehand. The rugby metaphor worked well, with Boris stressing the way a country and capital city can only move forward if they lock arms and heads together.
Some Tories muttered to me last night that this talk of team playing was the biggest joke of all, given Boris' penchant for looking like a loner, a stray unguided missile who can ruin conference plans. But his best lines were about seizing the centre ground Labour appears to have vacated, and pointing to his record of successfully winning over its voters in two big elections.
In contrast to Mrs May, it was a very good day at the office for Boris. The Spectator suggestion that he was washed up was a distant memory as the PM was forced to put on record that he wanted Boris in his 'team' at No.10 (we were briefed this meant a Cabinet job) once he steps down next May.
But just what job will that be? Boris allies smelled a rat when Osborne handed Lord Adonis the infrastructure role because it effectively ruled out a Cabinet minister for that issue, which had been floated for Boris. Party chairman would be a biggie, but Boris may prefer a real department. Maybe the perfect job would be Defence Secretary, giving him a real chance to prove he's serious. Fallon (who was on Today going for 'dangerous' Russian moves in Syria) could be ready to go by next spring, after a long career and 2% defence spend victory…
BECAUSE YOU'VE READ THIS FAR..
One area where Boris and Theresa appeared to be in unison was on opposing the wicked EU's freedom of movement rules. But Philip Hammond last night told a Demos fringe a few home truths about the way other states, such as Poland, view one of the founding principles of the union.
'Because of the emotional linkage with their own freedom from Soviet slavery and the ability of people in Eastern Europe to travel for the first time in their lives, a deeply emotive thing, no political leader in Eastern Europe is going to support the end of freedom of movement. It would be domestic political suicide.'
Hammond stressed that "when we approach it from a different angle, reducing the attraction factors" like benefits, then other states are more sympathetic. But that won't calm the fears of Eurosceptics who fear he's 'gone native' at the FCO just as they feared Hague had, and that the PM's renegotiation will be more fudge than crunch. No.10 was quietly delighted yesterday at a ruling that threw out a Brussels challenge to our new residency/benefit tests for migrants. Still, the Times is another paper to say ministers are urging the PM to go for 2017 to get a better deal
The Times splashes on what it describes as a 'secret' EU plan to get African states to cut migration by threatening them with aid cuts. Speedier deportation, don't forget, was always a Commission plan since early summer.
After two days of conference attendees getting spat and sworn at by protestors, the cops finally installed extra barriers on Monday night. Few have had to 'carry on up the Khyber' (copyright Boris) gauntlet of anarcho-warriors since. Yet there are lots of ministers who are wondering just why the Greater Manchester Police allowed the protestors to get up so close and personal in the first place.
It's not quite as bad as France where the Air France chief got away by the skin of his teeth from suit-ripping protestors. Hollande and Manuel Valls have said the protestors 'hurt' the country's reputation. But even a whiff of French-style militancy worries many ministers.
The Times quotes one Cabinet minister saying that the failure to clamp down on protesters threatening female conference delegates with rape on Monday was "outrageous". GMP said yesterday that they had "made reactive changes to the policing operation". The Sun also reports that ministers are furious with thugs screaming 'fucking Tory whores' at women attendees, and Anna Soubry says she saw one shouting 'bitch' in a female delegate's face.
All of which prompts this thought: wouldn't it be canny if Shadow Home Secretary Andy Burnham made a stand by condemning the GMP police operation for its failure to protect women, and men (one disabled charity worker was abused too)? That would send a signal in more ways than one…
If you're reading this on the web, sign-up HERE to get the WaughZone delivered to your inbox.
Got something you want to share? Please send any stories/tips/quotes/pix/plugs/gossip to Paul Waugh (paul.waugh@huffingtonpost.com), Ned Simons (ned.simons@huffingtonpost.com), Graeme Demianyk (graeme.demianyk@huffingtonpost.com) and Owen Bennett (owen.bennett@huffingtonpost.com)
Popular in the Community