Twitter commenters were baffled and appalled after an account that appeared to be from Channel 5's The Wright Stuff show posted a rather odd phone-in question.
The account, @wrightstuffon5, asked "Are people that take selfies more likely to join ISIS"? and appealed for people to ring in with their thoughts on this important topic.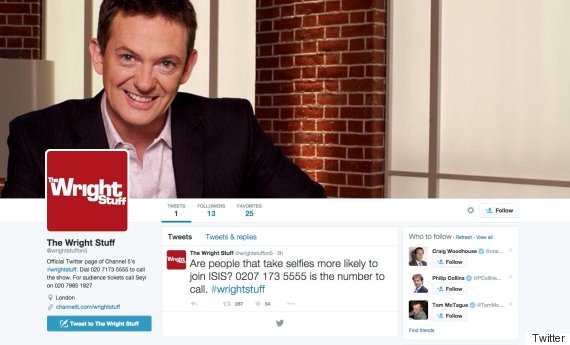 The fake profile account
Many people responded mocking the tweet, asking if its writer had "been on the booze" and accusing The Wright Stuff of "plumbing new depths".
Are people that take selfies more likely to join ISIS? 0207 173 5555 is the number to call. #wrightstuff

— The Wright Stuff (@wrightstuffon5) October 7, 2015
The account has been suspended but the text can still be seen
But the account - which has only 13 followers - is a fake. Not that this was picked up by most of the people tweeting their outrage:
@wrightstuffon5 Has someone been on the booze already this morning?

— Fuzzy Duck (@BoatingFuzzy) October 7, 2015
@wrightstuffon5 @isis_karaoke don't be ridiculous. Plumbing new depths now on this show.

— Sam (@DipBrig11) October 7, 2015
Next up Are people who drink coffee more likely to vote Green? https://t.co/zYBRVhDcwY

— Kevin Jackson (@kevinlfj) October 7, 2015
@wrightstuffon5 😂😂😂😂😂😂😂 So ISIS is just full of hot young girls, that like to go out then? And we still can't defeat them... Bloody useless

— DAN (@DDS082) October 7, 2015
.@wrightstuffon5 @sjhross Better start with baseball and go from there pic.twitter.com/256mbxHBXs

— Steve Smith (@stevesmithffx) October 7, 2015
Matthew Wright hosts the discussion programme, which airs on weekday mornings on Channel 5.
The fake account was active for around two hours but has now been suspended.
All the details in the fake profile matched the real one, apart from the Twitter join date. The tweet about the rather unusual 'phone in' is the only post it has ever made.
The tweet included the real phone number for the programme, so Channel 5 can expect some pretty interesting calls this morning.
@wrightstuffon5 Lay of the drugs you absolute knob jockey.

— Ryan Tomes (@RyanTomes) October 7, 2015
@wrightstuffon5 are you on crack?

— Beggie Smalls (@beggie_smalls) October 7, 2015
@wrightstuffon5 @MrChrisLent therefore, members of ISIS (????) are all narcissistic. Come on, FFS.

— BW (@panicpipingpuff) October 7, 2015