The internet is bemused after the BBC released archive footage of Michael Gove at London Pride in 1993.
The then-journalist was reporting at the annual LGBT march at a time when the age of consent was 21 for homosexual sex and 16 for heterosexual.
As an MP, Gove was one high-profile Conservative that supported same-sex marriage as it passed through Parliament in 2013. 136 Tories opposed the bill.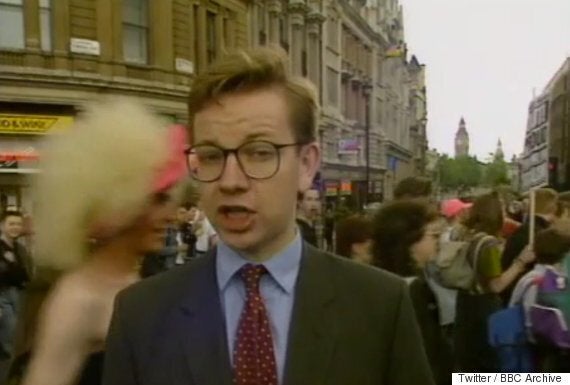 A young Michael Gove reports for the BBC at London Pride 1993
Standing amongst the crowds at the Pride event, Gove reported: "Many of the men on this march will have broken the law, repeatedly and persistently, by falling in love as teenagers.
"Last year, hopes were raised that the age of consent for homosexuality and heterosexuality would be equalised, but many now fear the government won't make a move.
"So, what are the chances of the change in the law that makes young gay love a sex crime?"
Just one year later - during John Major's Conservative government - the House of Commons voted to reduce the gay male age of consent to 18.
Despite this, many were disappointed that it had not been reduced to 16.
The age of consent for homosexual sex wasn't lowered again until 2001, during Tony Blair's reign, when it was reduced to finally equal heterosexual sex.
Declaring his support for same-sex marriage, Gove spoke out in 2013: "It's wrong to say that because of how you love and who you love, you are not entitled to the same rights as others. It's wrong because inequality is wrong.
"Marriage is not undermined by extending it to gay people – it is reinforced by including everyone equally."
Many people, seemingly confused by the footage, took to Twitter to voice their opinion on the Young Gove:
Popular in the Community